The temperature's dropping, the nights are getting shorter, and we're all beginning to prepare for that age-old holiday ritual – the office Christmas party! Out of office emails will turn on, city eateries will fill with office workers in festive jumpers over suits, and questionable presents will be handed out by Derek from accounts.
But the Christmas party is also a great opportunity to build relationships between teams, celebrate after a year of hard work, bond with your colleagues and let off steam – ending the year with some laughs and a happy team.
So what are the key tips to organising an office Christmas party fit for Santa?
Take a look at how we scheduled our CatchApp Christmas party!
Step 2: Create a Group Invite
We enable 100+ group invites!
And what's really cool about CatchApp is that you can invite your contacts by sending the invitation to their email address, or their mobile number as a SMS. And, if they are not a contact, you can just write their email address in!
Step 3: Add Your Christmas Invite Message
Here is a template for you to use – remind people to vote on as many options as possible:
"Hey all,
This is to agree on best date for our Christmas 🎄 Party!
Please submit your preferences for ALL the times that work for you 📅 by Friday, and I will confirm it based on the winning date!
Step 4: Allocate Your Suggested Times
Make sure you offer lots of times to your invitees, so they can vote on which times / dates are their preference. This way you can see which time is best for most people, before confirming it.
Step 5: Assign a Location
CatchApp integrates with Google Maps, so just type the name of a venue, select the right one, and your invitees will see the full address, map, opening times and other details.
Step 6: Send Your Invites! ✉️
Step 7: Wait for the Votes to Roll in
Step 8: Pick the Most Popular Time, and You're Ready to Party!

💃
CatchApp notifies you when 50% of your attendees have voted – if there is a clear winner already you can confirm it straight away. If not, just wait for the rest of the votes. You will also be informed when most people have voted, and even when All people have.
Once you've confirmed the most popular time, everyone gets the confirmation email, with a way to add it to their calendar!
Need some inspiration? See our top tips below

🤓
📅 Agreeing the date 🎅
Coordinating everyone's diaries around the flurry of lunches, after-work drinks, and family commitments, makes organising the date the first thing to get right.
Avoid the scheduling minefield by organising your Christmas party with CatchApp.
Choose a number of potential dates and times, write some witty invitation copy and press send. Once everyone has voted on the times that work best for them, select the most popular time from the list and the event will magically appear in everyone's diaries, bringing calm to the chaos.
🎄 Where to Host Your Office Christmas Event? 🦌
Always start by researching what's nearest and easiest for everyone to get to. What are the most popular spots and do they have the capacity you need?
While group activities like bowling may be fantastic when organising smaller office Christmas events, it's much better to keep things simple for larger groups of 20 or more. A choice of canapés and a few drinks in a cool new venue will go down perfectly – just make sure to cater for all the different dietary requirements of your guests and those who are taking the wise decision not to embarrass themselves with alcohol.
🍾 No colleague left behind. 🥂
For your Christmas party invitations, make a clear list of who needs to be invited, along with their contact details.
Tip – get in touch with HR to help with the list, as the email groups set up on your system may accidentally leave off a few names, especially the newest team members.
Don't worry if you have a mix of contact details, some of your colleagues may prefer to be contacted via SMS, some may only want to receive emails, CatchApp's super-scheduling system allows you to send the same invitation to everyone.
🕺 Now Choose the Perfect Office Christmas Party Music 💃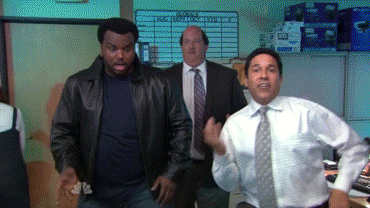 There are plenty of playlists out there to save you time, from the cheesiest tunes to the old classics. A tasteful playlist will get your event off to a good start, before going all out toward the end to encourage some spontaneous dance moves for everyone to laugh about at work the next day.
Two of our recommended Christmas playlists on Spotify are:
Spotify's own 'Christmas Classics' playlist
The
'Greatest Christmas Playlist' filled with all our old favourites
All Those Little Extras For The Perfect Office Christmas Part 🎁
Now you've got all the main ingredients for your office Christmas party to be a huge success, it's time to think of the fun little extras that will really make your name as the perfect Christmas party planner. It's still a good idea to keep things simple here, but a little creativity can go a long way.
Office Christmas parties are known for tacky decorations. Steer away from this by scattering a few sprigs of fresh holly and ivy across tables – cutting down on plastic waste for the environmentally conscious – and add some tealights in jam jars for atmosphere without a substantial cost. 
Want to go all out with your extras? Consider a few classic games – a fancy dress competition, giant Jenga, or a mini Casino to keep your guests entertained.
Also, make sure you have the local cab number (or taxi app) available to help rescue any of your colleagues who need a fast ride home after too much mulled wine or who have pulled a muscle whilst on the dance floor.
Stick to this party planning formula and your office Christmas or holiday event is guaranteed to go down well. And with CatchApp, getting all this organised is quicker and easier than ever – leaving you with more time to get your work done and more time to enjoy yourself with a glass of champagne on the day.
Giving your co-workers a say in the timing (via CatchApp of course!) will make you the hero of the office, saving stress and those all-important workplace relationships along the way.
Be sure to enjoy yourself, and from all of us here at CatchApp: we wish you a very Merry Christmas or Holiday season!