Supercharge your
business
Avoid missed appointments, and make your business accessible 24/7.
CatchApp brings people together by organising bookings in your calendar without you having to do a thing!
Features you will love
Endless possibilities with CatchApp bookings.
Can't see the feature you're looking for? Let us know!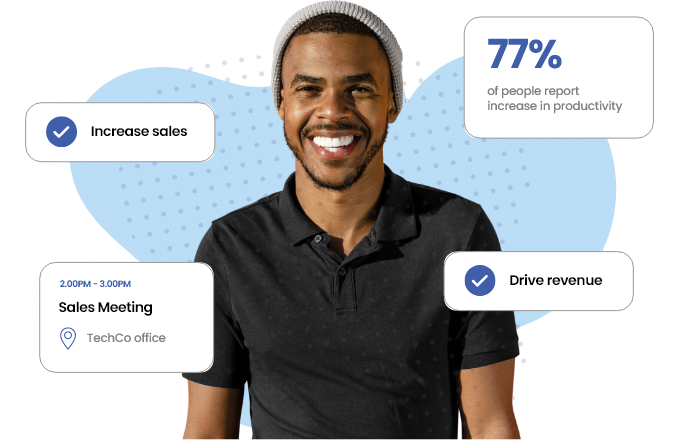 Accept payments
Accept online debit and credit card payments from your clients. It's super-easy to set up and payments can be made before your clients make their booking. Best of all, there's no commission, so all funds come directly to you!
Face-to-face meetings
Simply add your location and CatchApp Bookings does the rest. You can offer multiple location options for your clients to choose from by sharing the location that best suits their needs, just create relevant event, and it is done!

Video-call appointments
CatchApp Bookings allows your clients to book video calls with you. All your favourite video conferencing software is built-in – Zoom, Google Meet, Microsoft Teams and more. We off you the choice and with unique links for each meeting.

Phone meetings
Do you schedule lots of phone calls? We've got you covered too! With CatchApp Bookings your clients can book calls with you or your team. You can even inform your clients who is calling who so everything is crystal clear.

Control your time
Customise your availability, set different availability for your various services or meetings and days off. A last-minute change? No problem – in seconds adjust your availability, and always have absolute control over your time.

Pre-qualify appointments
Do you require certain information from your clients before each meeting? You can set up CatchApp Bookings to ask your client for the info you need prior to each booking. All the notes will be saved in your calendar.

Embed bookings on your website
Add your personalised CatchApp Bookings to your website. Allowing your clients to view and book your services and availability directly on your site.

Accept bookings from social media
Simply add your bookings link to your social media and your clients can book there and then.

Bookable link
Your bookable link is for you to share how you like. you can include it in your signature or send it by text, Messenger, WhatsApp, or any other way. Letting your clients view you availability to book your time – anytime!
Integrate with your favourite apps!
Connect your CatchApp account with your favourite calendar, video conferencing solution, CRM, and more.

Google Calendar
Integrate your Google Calendar with CatchApp and get everything in-sync.

Apple Calendar
Integrate across your Apple devices with powerful scheduling!
Microsoft Calendar
Microsoft's cloud-based calendars with your scheduling automation for faster and automated scheduling. Whether it's Microsoft Exchange, Office 365, or Outlook/Hotmail, CatchApp integrates with all Microsoft Calendars!

Google Meet
Automatically include Google Meet details in your booked events.

Microsoft Teams
Automatically add your Microsoft Teams conference details to every booked event.

Zoom
Automatically generate unique Zoom video conferencing and dial-in details!

Stripe
Accept card payments as you schedule meetings automatically! Consolidates your billing and cuts down on no-shows.

monday.com
With all the scheduling superpowers for your meetings and appointments connected to monday.com's powerful CRM and project management right there for you to see, CatchApp Bookings is the perfect addition.

HubSpot
By pairing CatchApp Bookings with HubSpot you'll have the benefits of a leading inbound marketing and sales platform that helps companies to attract visitors, and convert leads, whilst also getting the scheduling power of CatchApp Bookings.

Zendesk
Designed with customer relationships in mind, Zendesk offers a cloud-based CRM platform that makes viewing information easy for your entire team. Pair it with CatchApp Bookings and you've got the perfect combination!

Salesflare
With simplicity and efficiency at the forefront of their design, Salesflare aims to provide you with more sales with less input from you, so you've got more time to spend on the things that matter. Add in the scheduling power of CatchApp Bookings and your business will soar.

Zapier
We've integrated our super-smooth scheduling at CatchApp with Zapier so you don't have to spend the time (and money) to get the benefits of easily scheduling meetings, automatic reminders, and a private calendar, integrated directly with the software you use.

Slack
Slack is a great way to communicate, especially with CatchApp Bookings in the picture, plus it's faster and safer than email. It allows you to have all your individual topics, projects or teams in their dedicated channels, making it easier to communicate with your team.