In this article, we will guide you through the process of setting up and managing your team members in CatchApp Bookings. By inviting your team to use the platform, you can enjoy the benefits of collaborative scheduling and streamline your booking process. Follow these easy steps to get started.
---
How to Set Up
You are able to customise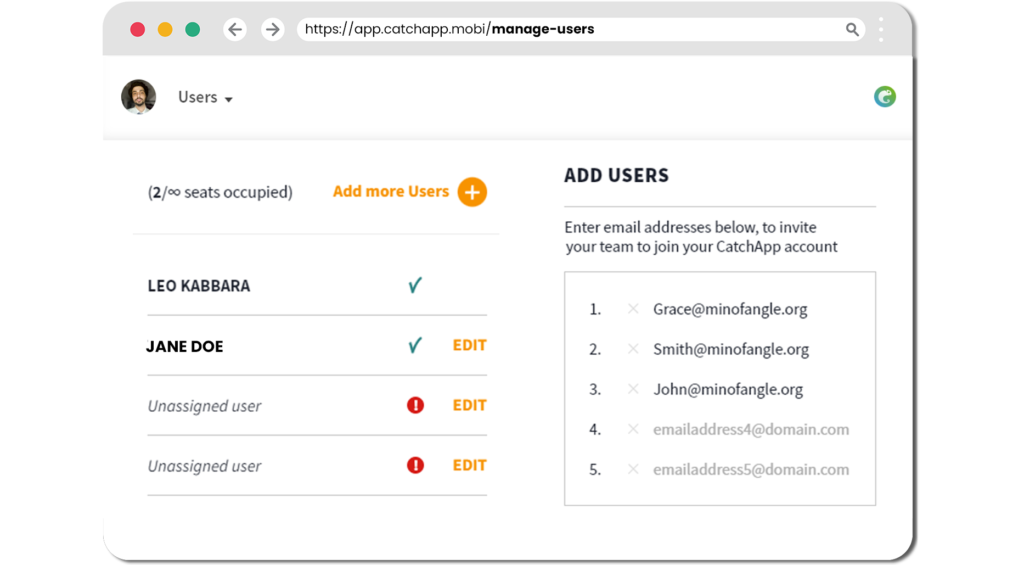 1) log in to your account
2) Navigate to the Users tab in your side-menu
3) Click on the Add more Users button
4) Enter the email addresses of your team members
*Tip: You can invite multiple team members/emails at once
5) Confirm your request by providing your details
6) Your team members will receive an email and be prompted to set up their accounts
How to Manage Users
This will enable you to
1) Login to your account
2) Go to the Users tab in your side-menu
3) Click on the Edit option for the desired team member
*You can remove the selected user if needed to free up a seat for others
How to Delete Seats
Choose to manage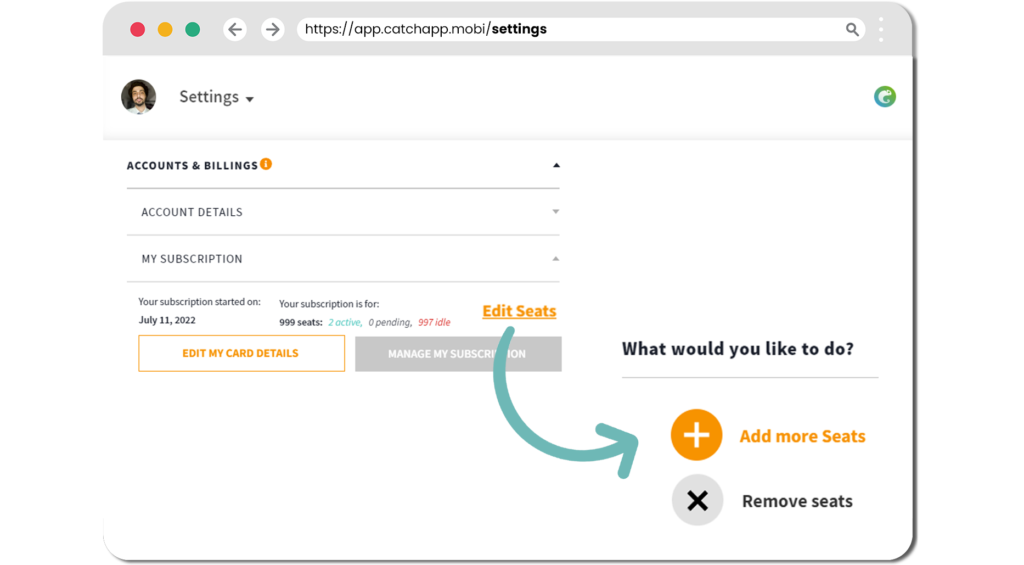 1) Click on Settings
2) Go to Accounts & Billings, and then My Subscriptions
3) Click on Edit Seats
*You can remove idle seats or add additional seats as required

4) Specify the number of idle seats you want to delete (e.g., 1)
How to View Your Team's Availability
1) Open My Availability on your Dashboard
2) Click on the Select Users drop-down box and choose the user you want to view
3) From there, you can see each calendar month of the selected user, including any confirmed bookings
---
What can I do now?
Now that you have enabled admin users to invite sub-users in CatchApp Bookings, you can enjoy the following benefits:
Distribute booking responsibilities among your team: Delegate the task of managing bookings to different team members, allowing for more efficient scheduling and reducing the burden on a single individual.
Streamline internal collaboration: With sub-users in place, team members can seamlessly coordinate and communicate within the CatchApp Bookings platform, ensuring everyone is on the same page and making scheduling decisions easier.
Enhance productivity and client satisfaction: By empowering your team to manage their own bookings, you can provide a faster and more responsive service to your clients, resulting in increased satisfaction and improved client relationships.
Scale your booking operations: As your team grows, you can easily add new sub-users to CatchApp Bookings, ensuring that everyone has access to the necessary tools for effective scheduling and coordination.
Outcomes for this…
Enabling admin users to invite sub-users in CatchApp Bookings brings several benefits to your team and organization. By granting access to individual team members, you can distribute booking responsibilities, improve internal communication, and enhance overall scheduling efficiency. With a streamlined and collaborative approach, you can ensure a seamless booking experience for both your team and your clients.
To take it to the next level:
Learn the benefits of inviting your team

Understand how to set up your appointments

Find out more about your Settings options
Explore our Help Center for more ways to use CatchApp to make scheduling easier.
Have a question? If you have any questions, please reach out to our team by using our contact form. We're available 24/7 and happy to help!