Adding a buffer time between appointments is a smart scheduling technique that can help you stay organized, minimize stress, and ensure a smooth flow throughout your day. With CatchApp, you have the flexibility to add buffer time to your events, allowing you to have a breather, prepare for the next appointment, or simply avoid any overlapping schedules. In this article, we will guide you through the process of adding a buffer to your appointments on CatchApp, enabling you to optimize your time and enhance your productivity.
---
Adding a Buffer on CatchApp
You are able to customise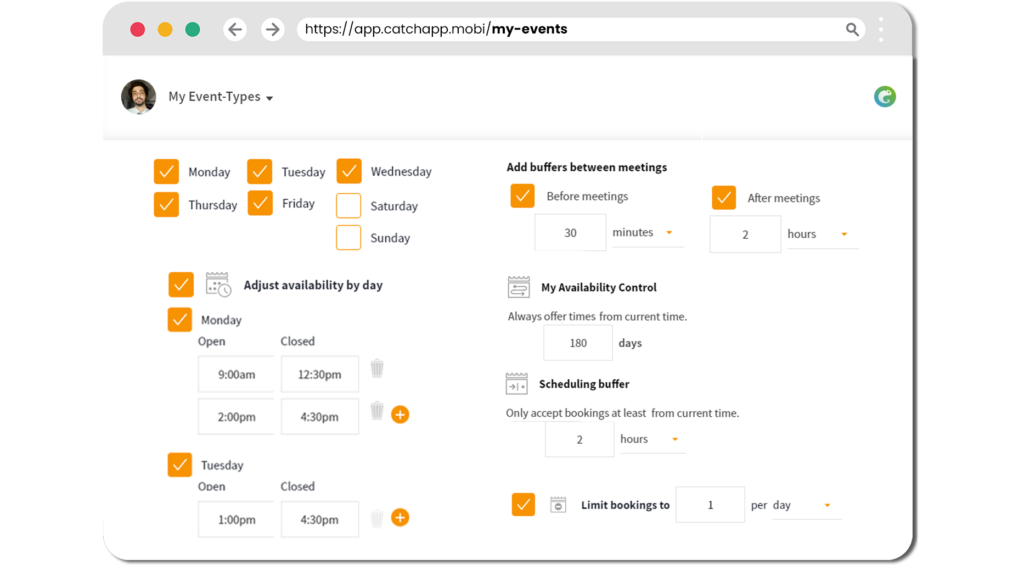 1) Login to your CatchApp account.
2) Go to the "Event Types" page.
3) Select the event type for which you want to add a buffer.
4) Look for the "Buffer Time" setting and click on it.
5) Specify the duration of the buffer time you want to add (e.g., 10 minutes, 15 minutes).
6) Save your changes.
Understanding the Importance of Buffer Time
This will enable you to
Before diving into adding buffer on CatchApp, let's explore why it's important to include buffer time in your schedule:
– Avoid Overlapping Appointments: Buffer time ensures that you have sufficient breathing space between appointments, preventing back-to-back meetings and allowing you to wrap up the previous one and prepare for the next.
– Reduce Stress and Improve Focus: Buffer time provides a mental break, allowing you to regroup, gather your thoughts, and transition smoothly from one appointment to another. It reduces the feeling of being rushed and enhances your focus during each meeting.
– Handle Unexpected Delays: Buffer time acts as a buffer for unexpected delays, such as a meeting running longer than anticipated or traffic congestion. It provides a cushion to accommodate any unforeseen circumstances without disrupting your entire schedule.
---
What can I do now?
Now that you have learned how to add a buffer to your appointments on CatchApp, you can:
Schedule buffer time between appointments to allow for transitions and preparation.
Minimize stress and create a more organized and productive schedule.
Maintain flexibility to handle unexpected delays or changes in your day.
Outcomes for this…
By incorporating buffer time into your schedule, you can expect the following outcomes:
Improved time management and reduced scheduling conflicts.
Enhanced focus and productivity during each appointment.
Increased flexibility to adapt to unexpected changes without disruption
To take it to the next level:
Fine-tune your availability
Create and manage your events
Add CatchApp Booking links to your Social Profile for quick, anytime access
Explore our Help Center for more ways to use CatchApp to make scheduling easier.
Have a question? If you have any questions, please reach out to our team by using our contact form. We're available 24/7 and happy to help!