With CatchApp, you have the flexibility to choose and fully personalize the availability time slots for your events. This allows you to specify the exact start times that work best for your schedule. Whether you want to offer appointments in the morning, afternoon, or evening, you can easily customize the start times to suit your preferences. By following a few simple steps, you can add custom start times to your event types and ensure that your availability aligns perfectly with your schedule.
---
Adding Custom Start Times to Your Event Types
You are able to customise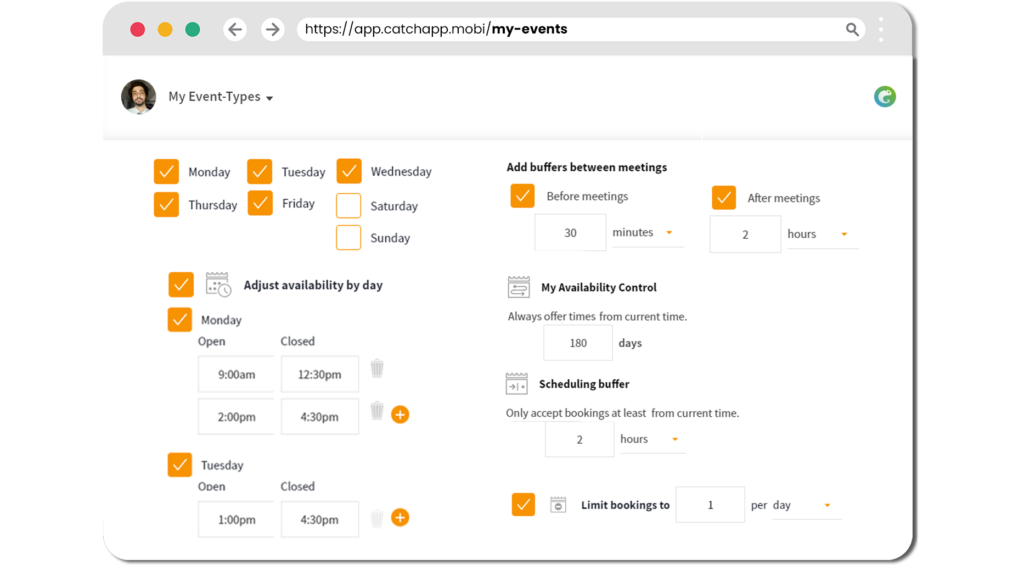 1) Login to your CatchApp account.
2) Go to the "Event Types" page.
3) Click on "Edit" for the selected Event Type you want to modify.
4) Scroll down to the "Availability" section.
5) Edit any time slot by clicking on it.
6) Customize the start time to your desired specific hour.
*Don't forget to include "am" or "pm" to allocate the correct time
7) Save your changes.
---
What can I do now?
Now that you have added custom start times to your event types, you can:
Offer appointments at specific times that align with your schedule.
Provide more personalized options for your attendees.
Optimize your availability based on your preferred working hours.
Outcomes for this…
By adding custom start times to your event types, you can expect the following outcomes:
Improved time management by aligning your availability with your preferred working hours.
Increased flexibility to accommodate different scheduling needs.
Enhanced attendee experience through personalized appointment options.
To take it to the next level:
Fine-tune your availability
Create and manage your events
Add CatchApp Booking links to your Social Profile for quick, anytime access
Explore our Help Center for more ways to use CatchApp to make scheduling easier.
Have a question? If you have any questions, please reach out to our team by using our contact form. We're available 24/7 and happy to help!