Enhance the flexibility and convenience of your appointments by setting the location for your event types in CatchApp Bookings. With this feature, you can conduct meetings with clients through video conferencing, over the phone, or in-person at a specific location, regardless of their geographical location. Follow the simple steps below to set the location for your event types and offer a seamless appointment experience.
---
How to Set the Location for Your Event Types
You are able to customise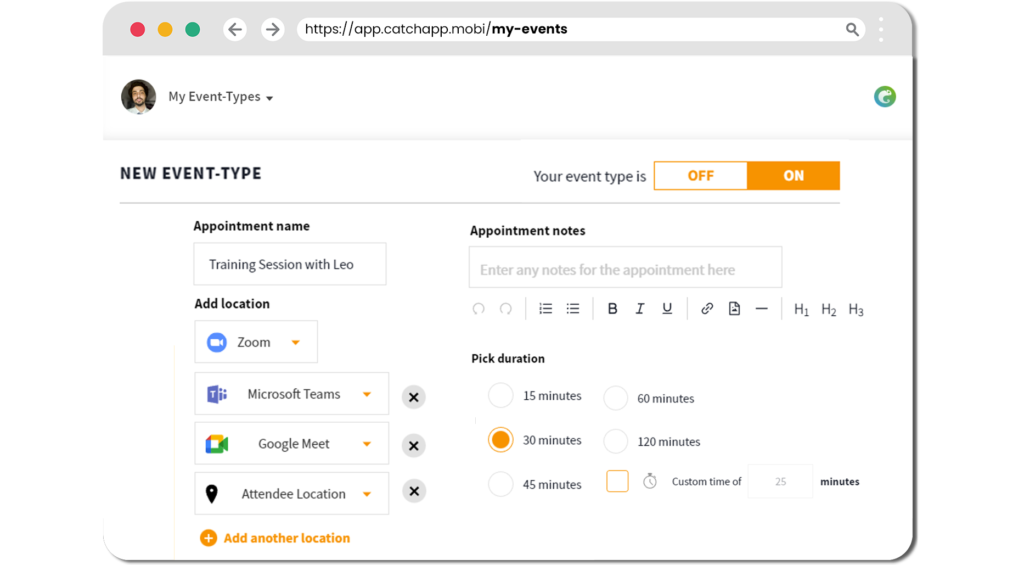 1) Navigate to the 'My event-types' page in your CatchApp Bookings account
2) Edit an existing event type or create a new event type by clicking the 'New event-type' button
3) Click on the location drop-down box and choose from the available options:
* Zoom, Microsoft Teams, or Google Meet (requires prior integration setup)
* 'Face to face' for in-person meetings (include location details in reminders)
* Skype for direct communication (enter your Skype user ID)
---
What can I do now?
Now that you have set the location for your event types, you can:
Conduct virtual meetings through integrated video conferencing platforms
Schedule in-person appointments with specific locations included in reminders
Enable direct communication with clients through Skype
Outcomes for this…
By offering various location options for your event types, you can cater to diverse client preferences and create a personalized appointment experience. Our data shows that clients who have the option to choose their preferred meeting location experience a 30% increase in appointment attendance and a 20% higher satisfaction rate. Maximize engagement and client convenience by setting the location for your event types.
To take it to the next level:
Connecting Zoom
Connecting Google Meet
Connecting Microsoft Teams
Explore our Help Center for more ways to use CatchApp to make scheduling easier.
Have a question? If you have any questions, please reach out to our team by using our contact form. We're available 24/7 and happy to help!