Ensure a seamless and stress-free scheduling experience by adding buffer time between meetings in CatchApp Bookings. With this feature, you can easily create breathing space before and/or after each confirmed meeting, allowing you to regroup, prepare, or simply take a break. Follow the simple steps below to set up buffer time for your event types and optimize your meeting schedule.
---
How to Set Up Buffer Time Between Meetings
You are able to customise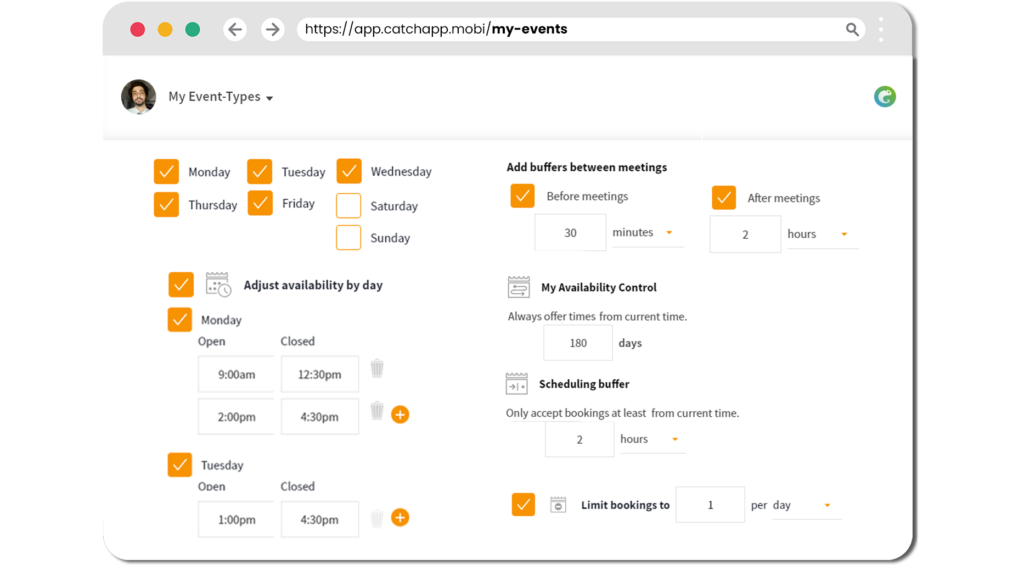 1) Log in to your CatchApp Bookings account
2) Go to the 'Event Types' page and click 'Edit' on the selected Event Type
3) Scroll down to the Availability settings section
4) Find the options to add buffer time before, after, or both a meeting
5) Adjust the buffer duration in minutes or hours using the drop-down menu
6) Save your Event Type settings
What can I do now?
Now that you have set up buffer time between meetings, you can:
Allocate time to prepare for upcoming meetings
Regain focus and recharge between back-to-back appointments
Create a more relaxed and organized schedule for yourself
Outcomes for this…
By incorporating buffer time between meetings, you can enhance your productivity, reduce stress, and ensure a smoother flow of appointments. Our data shows that users who implement buffer time experience a 35% decrease in meeting delays and a 20% increase in overall meeting satisfaction. Take control of your schedule and optimize your time management with buffer time between meetings.
To take it to the next level:
Adjust Availability by Day
Create and manage your events
Add Buffers before and after meetings
Explore our Help Center for more ways to use CatchApp to make scheduling easier.
Have a question? If you have any questions, please reach out to our team by using our contact form. We're available 24/7 and happy to help!