Find out how to add or update your availability
Simply visit your Availability calendar, select your event-type, and control your availability from here. Super-easy!
---
You are able to customise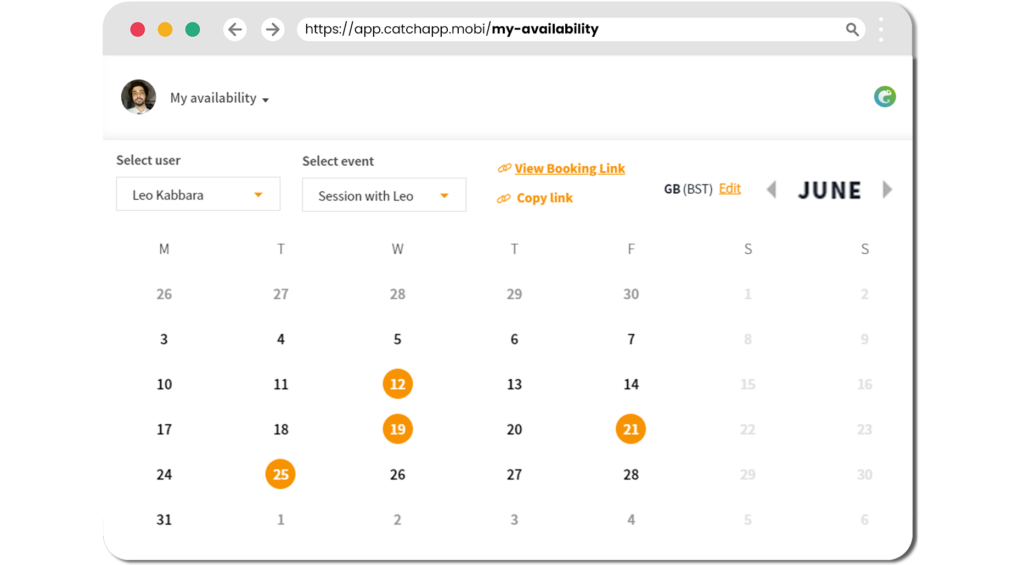 Let's start by adding some times. Our menu gives you 15, 30, or 60-minute slots to choose from, so you can just pick the one that suits you best.
Log into your account on catchapp.mobi
Click on the calendar icon along a name "Availability" on the side of the home page
Select a single date to add your opening hours, or highlight multiple ones to set the same opening times across several dates
Let your customers know when you're free for them. Once you've entered when you're available and used a few simple rules to define things like 'appointment length' and 'time zone', CatchApp Bookings will automatically generate appointment slots that fit these requirements that you can then share with your users.

Your Availability calendar lets you see all the remaining availability at a glance. Each time a meeting is booked, that time is removed from the Availability calendar, so you always see what time is still available.
Note that only you can edit these times, but essentially your customers get a look at your opening and closing hours across a whole month– just like a virtual shop front.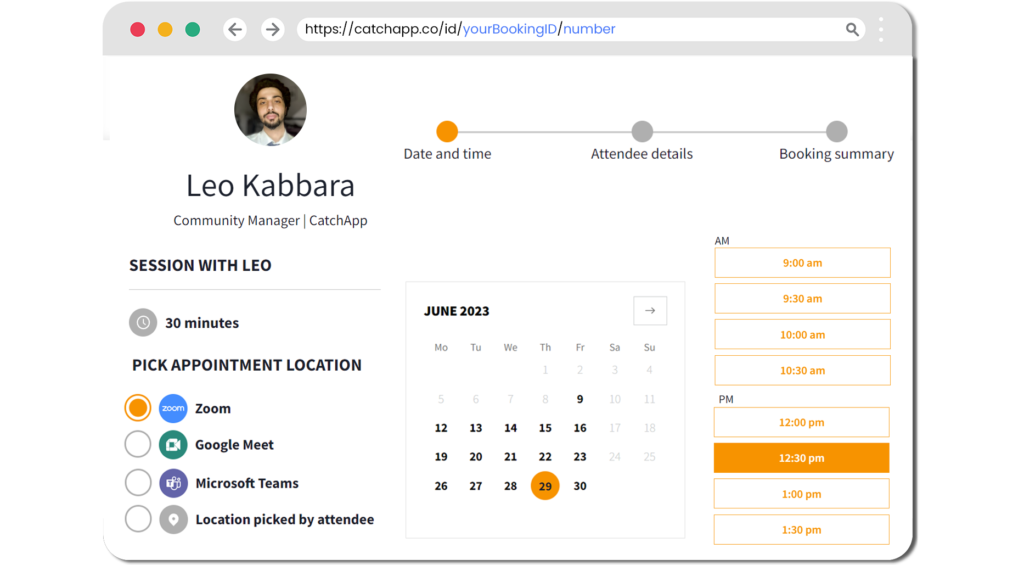 Additional Settings
CatchApp Bookings automatically generates appointment time slots during the times you're available, which you defined in the steps above.
To accurately generate appointment slots during these times you're available, however, it uses your preferences in the settings below to calculate exactly when and for how long each appointment slot should be offered.
For example, if you work from 9:00am to 5:00pm on Mondays, but only want to offer appointments of this type from 10:00am to 3:00pm, simply set your availability for Mondays to 10:00am to 3:00pm, and CatchApp Bookings will only generate appointment slots during that time range.
PRO TIP: It often makes sense to use multiple availability sections during one day. For instance, if you take a lunch break from 11:30am to 12:30pm, use an availability section for the morning that ends at 11:30am, then an availability section for the afternoon that starts at 12:30pm.
How long can each meeting be?
This sets the duration of this appointment type. You can use one of the pre-set options or customize the exact length.
PRO TIP: if you'd like to offer your contacts multiple appointment lengths to choose from, you can simply create another appointment type with a different length and offer your contacts both options to choose from.
Time zone and date range
Schedule your way. Use this to set how far into the future, or between which dates, your users can schedule an appointment of this type.
Over a period of rolling days: use this setting to offer appointment time slots for this appointment type indefinitely but to prevent your users from booking appointments with you farther than X days in advance. For instance, if you're always offering appointments but you don't want your contacts to book appointments with you farther than 2 weeks in advance, use this setting and set the number of days to '14'.
Over a date range: use this setting to offer appointment time slots for this appointment type within a specific date range. Your contacts will only be able to book this type of appointment with you within the defined date range. Once the end of the date range is passed, this appointment type will no longer be available to your contacts to sign up for.
Adjusting time slot frequency
Use this setting to adjust how frequently CatchApp Bookings generates available appointment slots for this appointment type. For example, if the length of this appointment type is 15 minutes, listed below are your options for how frequently you'd like this appointment type to be offered:
Every 10 minutes = 6 appointments offered per hour with their start times 10 minutes apart. Because the appointment length is 5 minutes longer than the time slot frequency in this case, once one of these appointments is scheduled, the appointment immediately following it will also be made unavailable, since its time slot would overlap with the now-scheduled preceding appointment.
Every 15 minutes = 4 appointments offered per hour with their start times 15 minutes apart
Every 30 minutes = 2 appointments offered per hour with their start times 30 minutes apart
Every hour = 1 appointment per hour with the start time between each appointment 1 hour apart
What can I do now?
Now you fully mapped out your availability to accept bookings!
Outcomes for this…
By allocating your availability, you can allow your shared availability to be open for 90% of bookings from clients!
To take it to the next level:
Fine-tune your availability by day
Close certain days
Limit the number of appointments per day
Explore our Help Center for more ways to use CatchApp to make scheduling easier.
Have a question? If you have any questions, please reach out to our team by using our contact form. We're available 24/7 and happy to help!