When it comes to managing your bookings, CatchApp offers a convenient and user-friendly interface that allows you to view and edit your scheduled appointments with ease. By accessing the "Your Bookings" section, you gain full control over attendee and meeting details, as well as the ability to reschedule or cancel appointments when necessary. In this article, we will explore how you can effectively utilize this feature to streamline your booking management process.
---
Viewing Attendee and Meeting Details
You are able to customise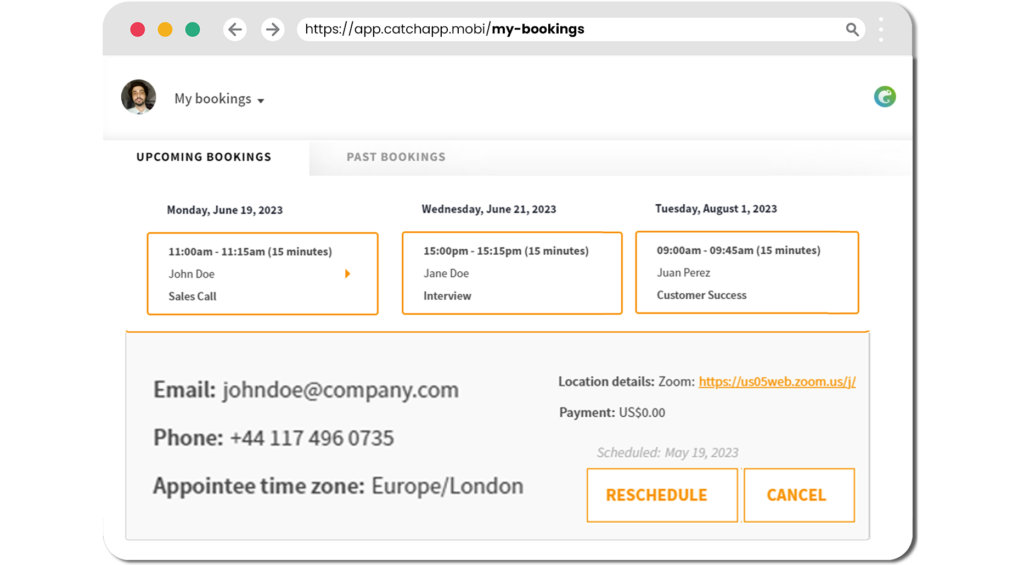 Within the "Your Bookings" section, you can access comprehensive information about each scheduled appointment. This includes details such as:
– Time and date of the meeting
– Full name of the attendee
– Appointment type
– Attendee's email address
– Provided phone number (if available)
– Attendee's time zone
– Location details
– Payment status (if applicable)
– Time of booking scheduled
Editing Scheduled Appointments
This will enable you to
CatchApp also provides you with the flexibility to make changes to your scheduled appointments. Whether you need to reschedule or cancel a meeting, you can easily do so through the "Your Bookings" section. Simply follow these steps:
Log in to your CatchApp account
Navigate to the "Your Bookings" page
Locate the appointment you wish to edit
Click on the appropriate option to reschedule or cancel the meeting
Click Save to confirm your changes
---
What can I do now?
Now that you have familiarized yourself with the "Your Bookings" feature, you can:
Stay organized by accessing and reviewing all attendee and meeting details in one place.
Easily make changes to your appointments, ensuring flexibility and adaptability.
Streamline your booking management process, saving time and effort.
Outcomes for this…
By effectively utilizing the "Your Bookings" feature on CatchApp, you can experience several benefits, such as:
Improved organization and preparedness for each appointment.
Enhanced efficiency in managing and updating your schedule.
Increased customer satisfaction through prompt and convenient rescheduling or cancellations.
To take it to the next level:
How to Cancel or Reschedule Appointments

Create and manage your events

Customize your Booking Links
Explore our Help Center for more ways to use CatchApp to make scheduling easier.
Have a question? If you have any questions, please reach out to our team by using our contact form. We're available 24/7 and happy to help!