Managing your calendars, video calling accounts, and payments has never been easier. In this article, we'll show you how to modify these aspects of your workflow to enhance productivity and streamline your scheduling process.
---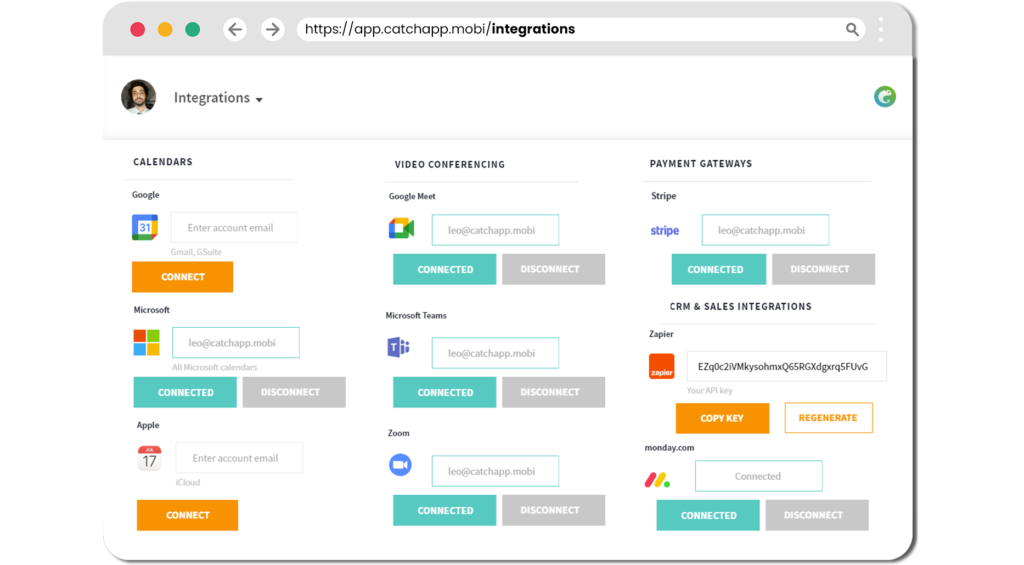 Two Way Sync
You are able to sync your calendar
Sync with Google Calendar, Microsoft Calendar, and Apple Calendar
Seamlessly manage and update your schedule across platforms
Ensure accurate availability for your clients
Multiple Locations
This will enable you to optimize video calling
Connect with popular video conferencing tools like Zoom, Microsoft Teams, and Google Meet
Schedule and host virtual meetings with ease
Provide a professional and convenient experience for your clients
Ready to Go Payment Process
Choose to manage your payments securely
Accept payments for qualified meetings through Stripe integration
Set up a secure and reliable payment gateway for your services
Simplify the billing process for you and your clients
World Class Productivity
Automate to your Tech-Stack
Utilize 4000+ integrations through Zapier with every App
Produce flexible workflows alongside other apps you use
Simplify Project Management by using monday.com
---
What can I do now?
Now that you have customized your calendars, video calling, and payments, you can enjoy a streamlined and efficient workflow. Update your availability, schedule virtual meetings, and get paid seamlessly. Take advantage of the integrations and enhancements we offer to enhance your scheduling experience.
Outcomes for this…
When you take advantage of these customizations, you can expect significant improvements in your scheduling process. According to our data, users who customize their calendars, video calling accounts, and payments experience a 40% increase in meeting efficiency and a 25% decrease in payment-related issues. Maximize your productivity and client satisfaction with these tailored solutions.
To take it to the next level:
Connect Zapier, Outlook and other Integrations

Set up Payments on your Bookings

Set up and manage appointments with monday.com
Explore our Help Center for more ways to use CatchApp to make scheduling easier.
Have a question? If you have any questions, please reach out to our team by using our contact form. We're available 24/7 and happy to help!