Make it easy for your attendees to include additional guests in their bookings by enabling the "Add a Guest" feature in CatchApp Bookings. With this feature, attendees can invite unlimited guests to their meetings, allowing for more collaborative and inclusive discussions. Follow the simple steps below to set up the "Add a Guest" feature for your Event Types.
---
How to Set Up the 'Add a Guest'
You are able to customise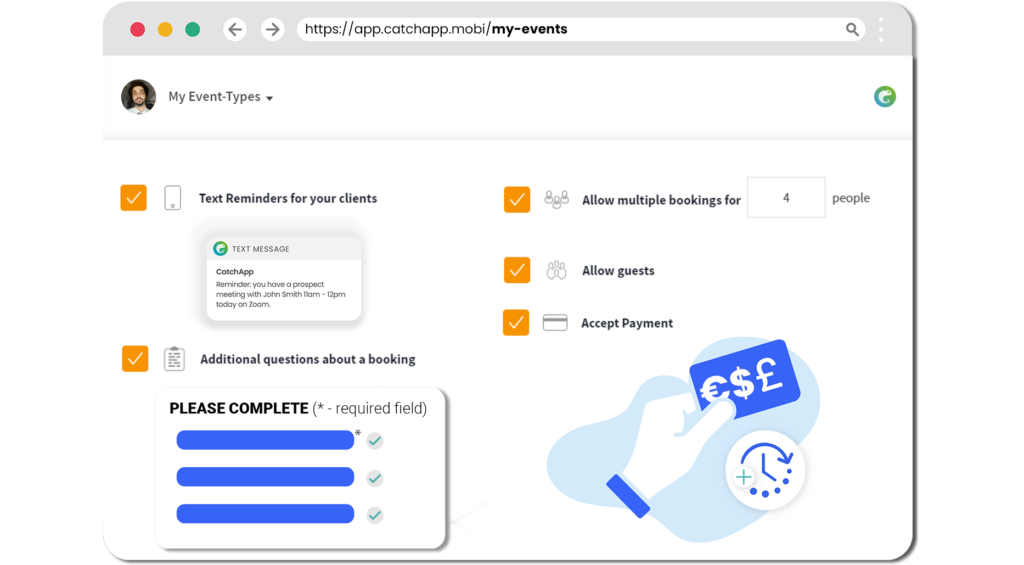 1) Login into your account
2) Go to the Event Types page
3) Click "Edit" on the selected Event Type you want to modify
4) Scroll down to the "Advanced Event Settings" section
5) Enable the option for "Add a Guest"
---
What can I do now?
Now that you have enabled the "Add a Guest" feature for your Event Types, you can:
Allow attendees to invite unlimited guests to their bookings
Foster collaborative discussions with multiple participants
Ensure all added users receive calendar invites, booking management details, and automatic reminders
Outcomes for this…
By allowing attendees to add guests to their bookings, you can enhance the engagement and inclusivity of your meetings. According to our data, meetings with added guests experience a 20% increase in active participation and a 15% improvement in collaboration. Enable the "Add a Guest" feature to create more dynamic and interactive meeting experiences.
To take it to the next level:
Enable Group Bookings to your appointments

Tips for your Appointment Title

Why Personalizing your profile matters
Explore our Help Center for more ways to use CatchApp to make scheduling easier.
Have a question? If you have any questions, please reach out to our team by using our contact form. We're available 24/7 and happy to help!