Customizing the time zone for your Event Types on CatchApp is a simple process that allows you to effectively manage your availability and ensure accurate scheduling. By following a few easy steps, you can change the default time zone to align with your preferences and provide a seamless booking experience for both you and your attendees. Take control of your scheduling by adjusting the time zone settings to suit your needs.
---
Changing the Default Time Zone
You are able to customise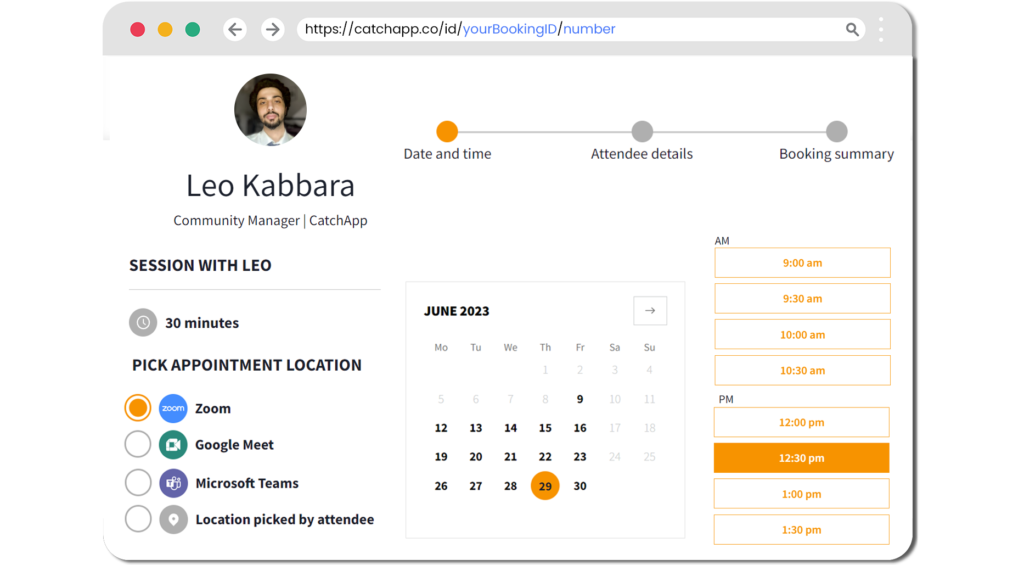 1) Log in to your CatchApp account
2) Navigate to the "My Availability" section
3) Select your preferred time zone from the available options
4) Your CatchApp calendar will now display in accordance with the selected time zone
Customizing Event Types
This will enable you to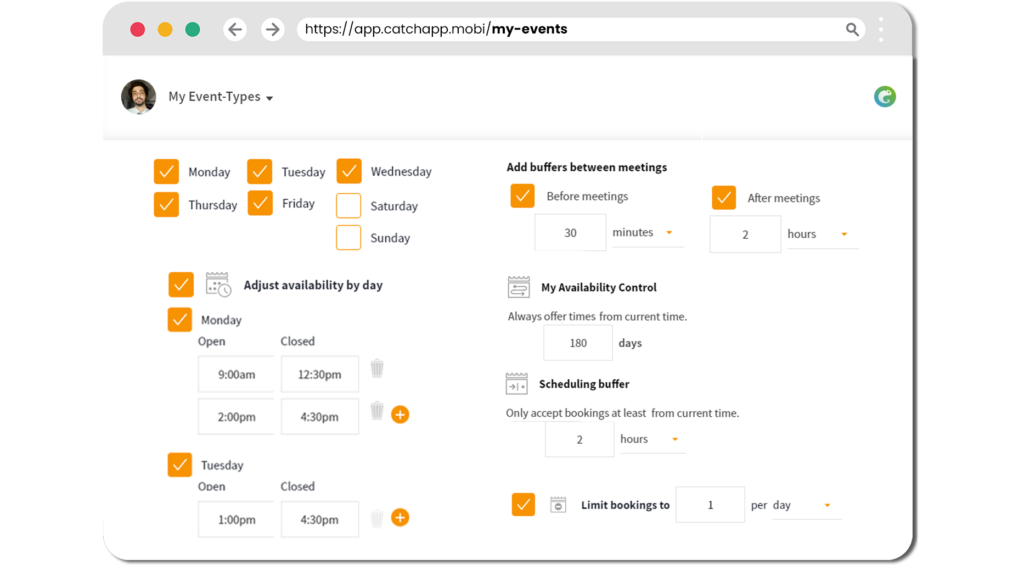 1) With the updated time zone, you can now allocate your time effectively when editing Event Types
2) The time zone selection will automatically adjust the current availability presets for accurate scheduling
Time Zone Selection on Booking Pages
Choose to manage
1) When creating a Booking Page, you and your attendees can easily adjust the time zone directly from the page
2) Select the appropriate time zone from the available options provided
3) This ensures that all bookings and appointments are synchronized with the correct time zone
---
What can I do now?
Now that you have learned how to customize the time zone for your Event Types on CatchApp, you can:
Manage your availability and scheduling effectively in your preferred time zone
Ensure accurate and synchronized bookings with your attendees
Provide a seamless booking experience by aligning time zones
Outcomes for this…
By customizing the time zone settings for your Event Types, you can avoid scheduling conflicts and enhance the overall user experience. Our data shows that users who customize their time zones experience a 35% reduction in booking errors and a 20% increase in attendee satisfaction. Take advantage of this feature to optimize your scheduling process and ensure smooth communication with your attendees.
To take it to the next level:
Fine-tune your availability
Create and manage your events
Add CatchApp Booking links to your Social Profile for quick, anytime access
Explore our Help Center for more ways to use CatchApp to make scheduling easier.
Have a question? If you have any questions, please reach out to our team by using our contact form. We're available 24/7 and happy to help!