Customizing your booking pages with rich text, hyperlinks, and images can significantly enhance the visual appeal and information provided to your clients. With CatchApp, you have the flexibility to personalize your appointment description and appointment notes, allowing you to add valuable details, job roles, company representation, and more. By following a few simple steps, you can transform the look and feel of your booking pages and provide a more engaging experience for your clients.
---
Customizing Appointment Description
You are able to customise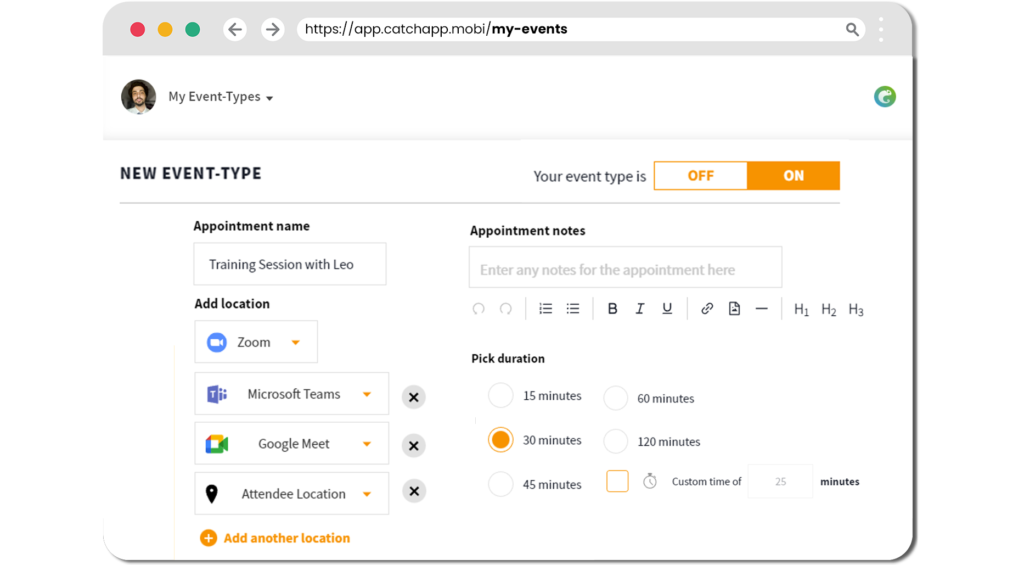 1) Login to your CatchApp account
2) Go to the "Settings" page and click on "My Profile"
3) Add any desired information to your Appointment Description
4) Click "Apply" to save the changes
*This section is ideal for adding valuable details such as your job role and the company you're representing, as it appears underneath your business name on the booking page.
Enhancing Appointment Notes
This will enable you to
1) Go to the "Event Types" page and click "Edit" on the selected Event Type
2) Scroll down to the "Appointment Notes" section
3) Utilize the available options to customize your notes:
– Undo/Redo: Revert or remove any applied changes
– Bullet/Numbered Lists: Add lists to your notes (unlimited)
– Rich Text: Add formatting options such as bold, italics, or underline
– Hyperlink: Automatically hyperlink any written links
– Attach Images: Include images in your notes (PNG/JPEG)
– Horizontal Line: Create sections by adding horizontal lines
– Headers: Transform text into Header 1, Header 2, or Header 3
4) Once you have completed customizing your appointment notes, click "Apply" to save the changes.
*Appointment notes will appear underneath the Appointment Name on your booking page.
---
What can I do now?
Now that you have learned how to customize your booking notes with rich text, hyperlinks, and images, you can:
Add valuable information, job roles, and company representation to the Appointment Description.
Enhance the visual appeal and organization of your appointment notes using formatting options, lists, headers, and more.
Provide a more engaging and informative experience for your clients
Outcomes for this…
By personalizing your booking notes with rich text, hyperlinks, and images, you can expect several outcomes, including:
Improved client engagement and understanding of your services
Increased professionalism and branding consistency throughout your booking pages
Enhanced communication and clarity of information provided to your clients
To take it to the next level:
Fine-tune your availability
Create and manage your events
Add CatchApp Booking links to your Social Profile for quick, anytime access
Explore our Help Center for more ways to use CatchApp to make scheduling easier.
Have a question? If you have any questions, please reach out to our team by using our contact form. We're available 24/7 and happy to help!