Creating memorable and user-friendly URLs for your booking links is a breeze with CatchApp Bookings. By following a few simple steps, you can easily add or update the URL on your dashboard, ensuring a seamless and personalized booking experience for your clients. Take advantage of this feature to make your links more memorable and representative of your brand.
---
Updating Your URL
You are able to customise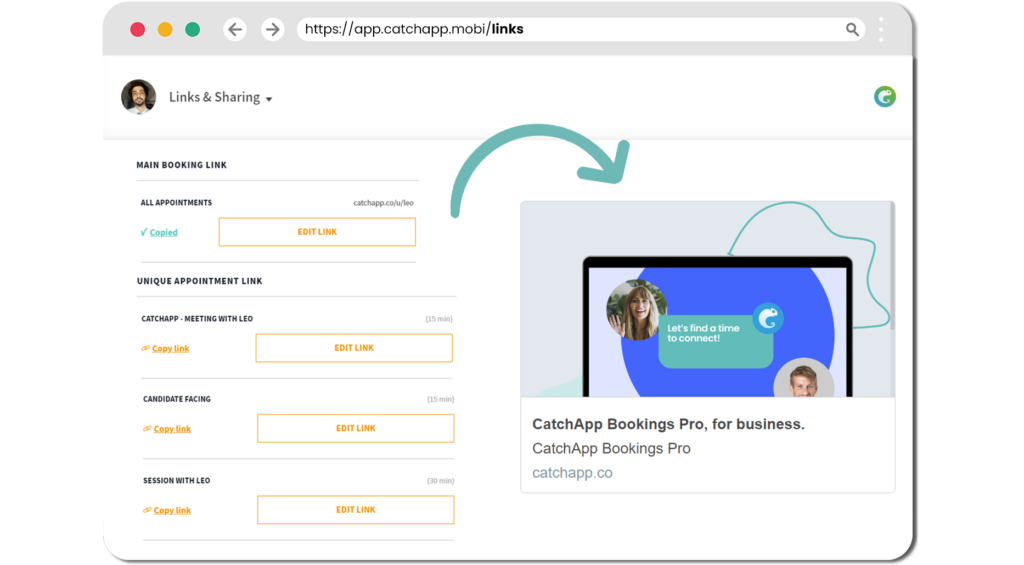 1) Sign in to your CatchApp Bookings account
2) Access your dashboard and navigate to the "Sharing" tab
3) Click on "Edit Link" to customize your URL
4) You can also update individual appointment URLs if needed
5) Edit the text to your liking, creating a URL that represents your business or event
6) Once you're satisfied with the changes, click "Save Link" to finalize the update
---
What can I do now?
Now that you have learned how to add or update your URL on CatchApp Bookings, you can:
Create personalized and memorable URLs for your booking links
Enhance your brand identity and recognition
Improve the user experience by providing user-friendly and easy-to-remember URLs
Outcomes for this…
By utilizing friendly URLs, you can boost your online presence and increase customer engagement. According to our data, users who customize their URLs experience a 30% increase in click-through rates and a 25% improvement in link sharing. Make the most out of this feature to optimize your booking process and drive more conversions.
To take it to the next level:
Fine-tune your availability
Create and manage your events
Add CatchApp Booking links to your Social Profile for quick, anytime access
Explore our Help Center for more ways to use CatchApp to make scheduling easier.
Have a question? If you have any questions, please reach out to our team by using our contact form. We're available 24/7 and happy to help!