Learn how to enhance your scheduling capabilities by allowing group bookings for your Event Types. With CatchApp Bookings, you can easily adjust your settings to accommodate multiple attendees for the same time slot. This feature is especially useful for teachers, trainers, and professionals who need to book sessions with a large number of students, clients, or participants. Follow the simple steps below to set up and manage group bookings efficiently.
---
How to Set Up Group Bookings
You are able to customise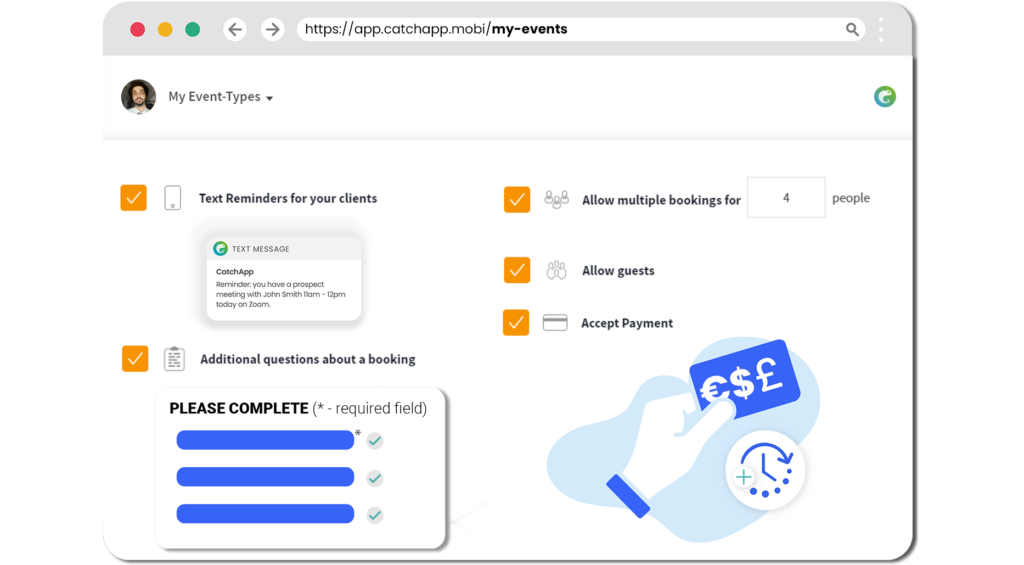 1) Login into your account
2) Click "Edit" on the selected Event Type you want to modify
3) Scroll down to the "Advanced Event Settings" section
4) Tick the "Allow multiple bookings for" option
5) Enter the appropriate number of participants for your appointment (e.g., 20+)
Managing Attendees
This will enable you to
1) Once you start receiving multiple bookings, you can easily manage attendees from your "My Bookings" section
2) You have the option to reschedule or cancel attendees individually or all at once, ensuring smooth coordination and organization
---
What can I do now?
Now that you have learned how to adjust your Event Types to allow for group bookings, you can:
Efficiently schedule appointments with multiple attendees
Easily manage and coordinate participants for each booking
Maximize your capacity and accommodate a larger number of students, clients, or participants in the same time slot
Outcomes for this…
According to our data, users who enable group bookings experience a 35% increase in their appointment capacity and a 20% improvement in overall efficiency. By allowing multiple attendees to book at the same time, you can optimize your resources and enhance your productivity.
To take it to the next level:
Find out how to set up your availability properly

Find out the importance of Group Bookings

Set up Multiple Locations
Explore our Help Center for more ways to use CatchApp to make scheduling easier.
Have a question? If you have any questions, please reach out to our team by using our contact form. We're available 24/7 and happy to help!