Expand the flexibility of your event types by allowing attendees to book from multiple location options with CatchApp Bookings. With this feature, you can cater to different meeting preferences and accommodate various locations for your appointments. Follow the simple steps below to set up multiple locations for your event types and provide a more versatile booking experience for your attendees.
---
How to Set Up Multiple Locations for Event Types
You are able to customise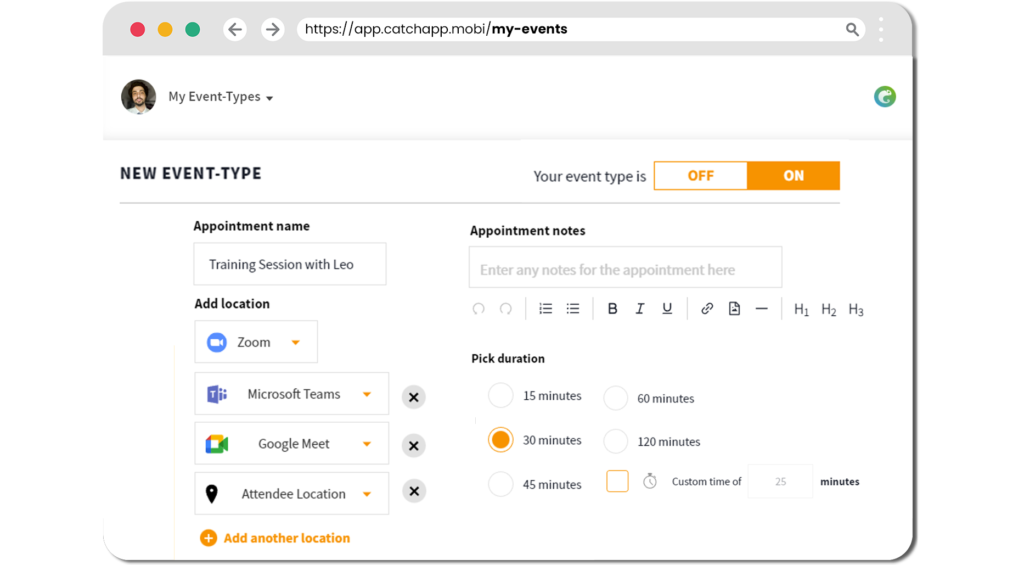 1) Log in to your CatchApp Bookings account
2) Go to the 'Event Types' page and click 'Edit' on the selected Event Type
3) Scroll down to the 'Add Location' section
4) Add additional locations by entering the necessary information
5) Click 'Apply Changes' to save the settings
What can I do now?
Now that you have set up multiple locations for your event types, you can:
Offer attendees the flexibility to choose their preferred meeting location
Accommodate various meeting scenarios and preferences
Provide a seamless booking experience for individuals from different locations
Outcomes for this…
By enabling multiple locations for your event types, you can enhance the accessibility and convenience of your booking process. Our data shows that users who offer multiple location options experience a 30% increase in booking completion rates and a 25% improvement in attendee satisfaction. Embrace the versatility of multiple locations and cater to a broader audience.
To take it to the next level:
Fine-tune your availability
Create and manage your events
Add CatchApp Booking links to your Social Profile for quick, anytime access
Explore our Help Center for more ways to use CatchApp to make scheduling easier.
Have a question? If you have any questions, please reach out to our team by using our contact form. We're available 24/7 and happy to help!