With CatchApp, you have the flexibility to easily manage your active event types by turning them on or off based on your business needs. This allows you to control which event types are currently available for booking and adjust them as necessary. Whether you want to activate or deactivate specific event types, you can easily do so by following a few simple steps. By regularly reviewing and adjusting your event types, you can optimize your scheduling process and ensure that your offerings align with your availability and business goals.
---
Turning On/Off Event Types in CatchApp
You are able to customise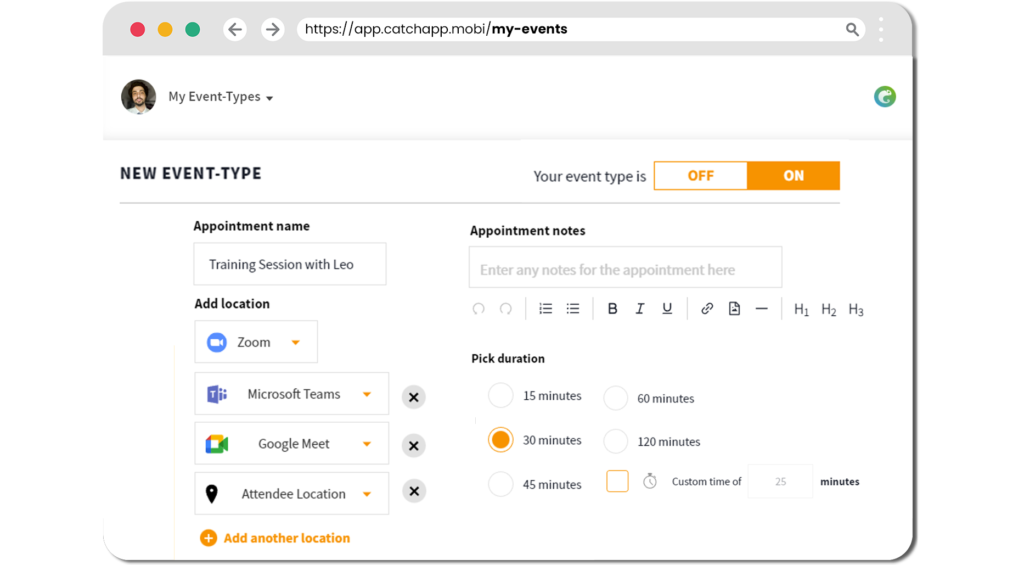 1) Login to your CatchApp account.
2) Navigate to the "Event Types" page.
3) Locate the specific event type you want to turn on or off.
4) Toggle the switch to activate or deactivate the event type.
---
What can I do now?
Now that you have learned how to turn on or off your event types, you can:
Control which event types are available for booking.
Adjust your offerings based on your availability and business needs.
Streamline your scheduling process by managing active event types.
Outcomes for this…
By utilizing the Event Type Toggle feature in CatchApp, you can expect the following benefits:
Flexibility to activate or deactivate event types based on your availability.
Improved organization and management of your event offerings.
Better alignment of your event types with your business goals and scheduling preferences.
To take it to the next level:
Fine-tune your availability
Create and manage your events
Add CatchApp Booking links to your Social Profile for quick, anytime access
Explore our Help Center for more ways to use CatchApp to make scheduling easier.
Have a question? If you have any questions, please reach out to our team by using our contact form. We're available 24/7 and happy to help!