Improve your meeting preparation and ensure you have all the necessary information from your attendees by using qualifying questions. With CatchApp Bookings, you can easily include custom questions for your attendees to answer when booking appointments. By gathering specific details in advance, you can be better informed and prepared for your upcoming meetings. Follow the simple steps below to set up qualifying questions for your Event Types.
---
How to Set Up Qualifying Questions
You are able to customise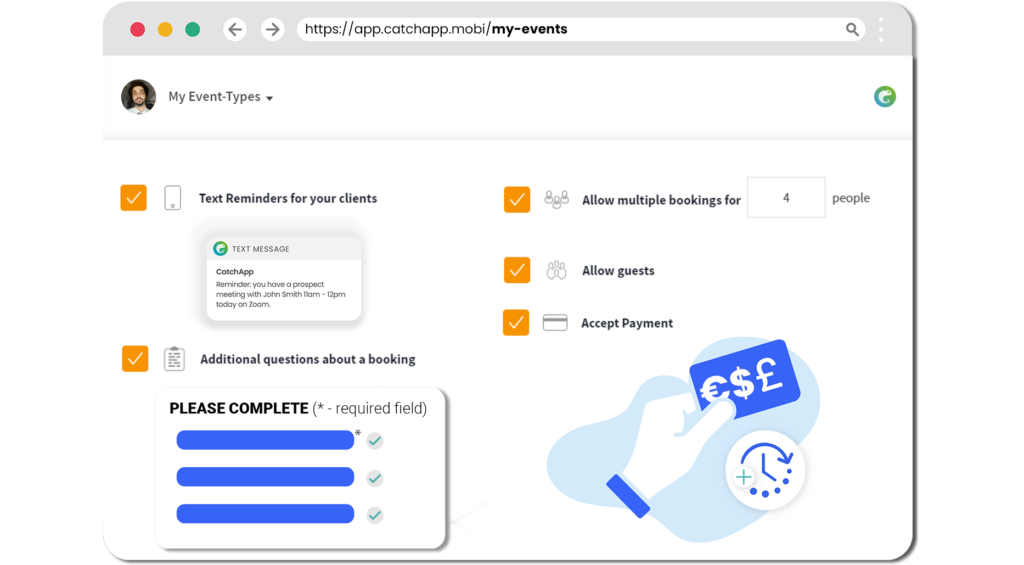 Login into your account
Go to the Event Types page
Click "Edit" on the selected Event Type you want to modify
Scroll down to the "Advanced Event Settings" section
Enable the option for "Additional questions about a booking"
Type in the questions you want to include in your Booking Page
You can add an unlimited number of qualifying questions for your Event Types
---
What can I do now?
Now that you have learned how to set up qualifying questions for your Event Types, you can:
Gather specific information from your attendees in advance
Tailor your meeting preparation based on the answers provided
Ensure a smoother and more productive meeting experience
Outcomes for this…
According to our data, users who use qualifying questions experience a 30% decrease in meeting preparation time and a 25% increase in meeting effectiveness. By asking targeted questions, you can gather the necessary details and be better prepared for productive discussions.
To take it to the next level:
Importance of Qualifying Questions (An Case Study)

How to organize Qualifying Questions on monday.com

How Salespeople benefit from using Qualifying Questions
Explore our Help Center for more ways to use CatchApp to make scheduling easier.
Have a question? If you have any questions, please reach out to our team by using our contact form. We're available 24/7 and happy to help!