CatchApp Bookings allows you to create multiple appointment types for all the different types of appointments you need to schedule. We call these event-types.
---
You are able to perform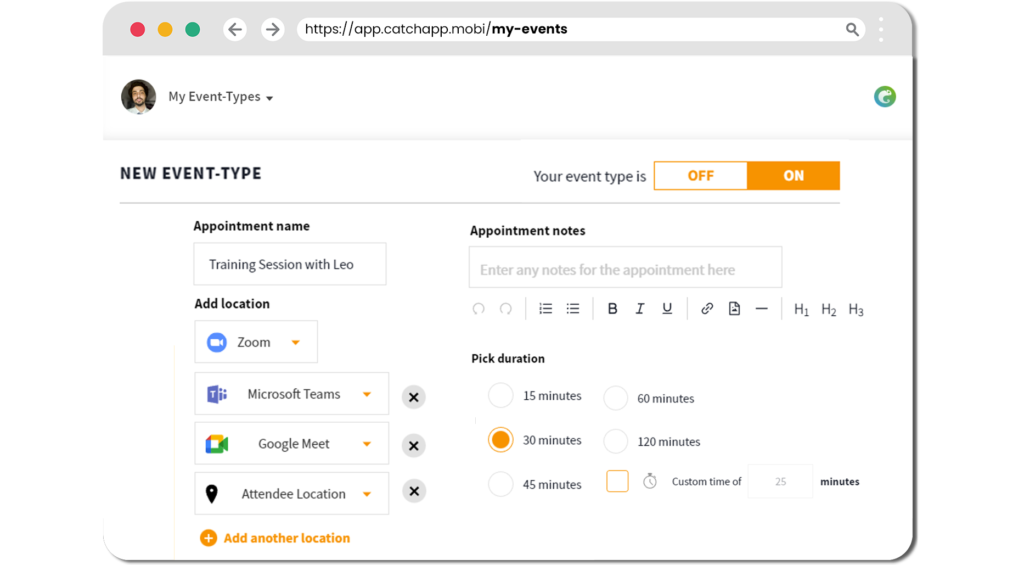 You can set the appointment duration, location and availability separately for each event-type.
To create a new appointment type, start by navigating to your Event-Types Page by following the steps below:
Log in to your account at CatchApp.mobi
Click 'My Event-types' (middle button on the left-hand menu)
Click the orange NEW EVENT-TYPE button
This will open your appointment (event-types) page from which you'll be able to create new appointment types and edit existing ones.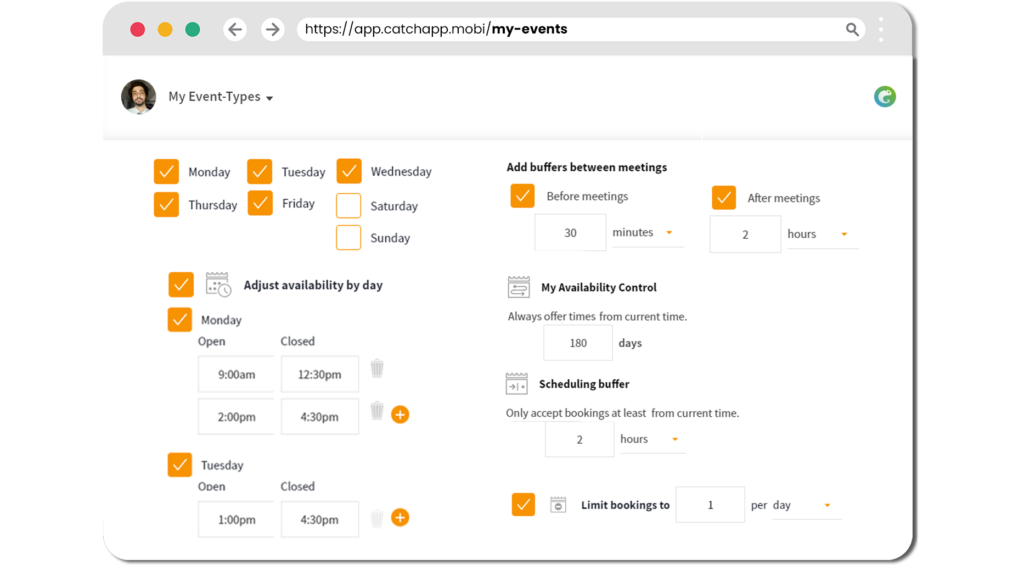 Just select the options that best suit you and your business and fill it out according to your availability.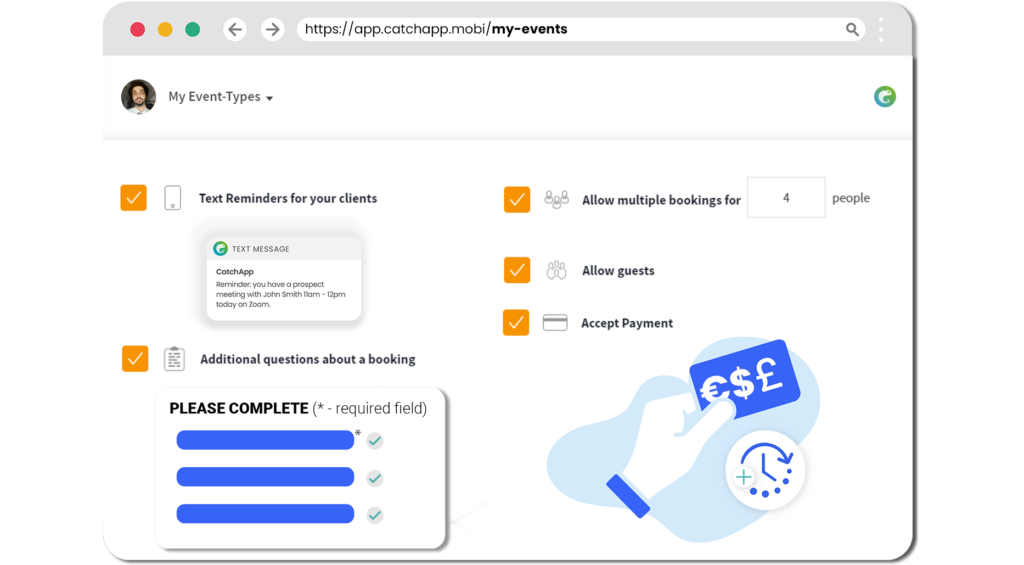 Add quality-of-life additions such as text reminders, valuable qualifying questions and payments!
---
Here's what your clients see when they reach your personal Bookings page: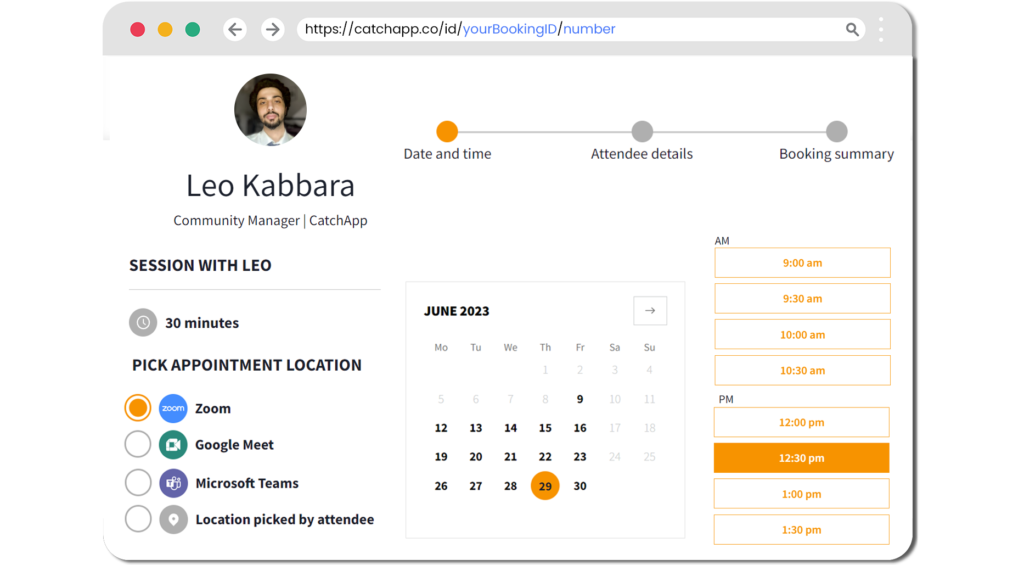 ---
In your Dashboard, you can view your Availability like below, adjust a specific day or even a whole month in a couple of clicks! Here's what the Availability Calendar page looks like: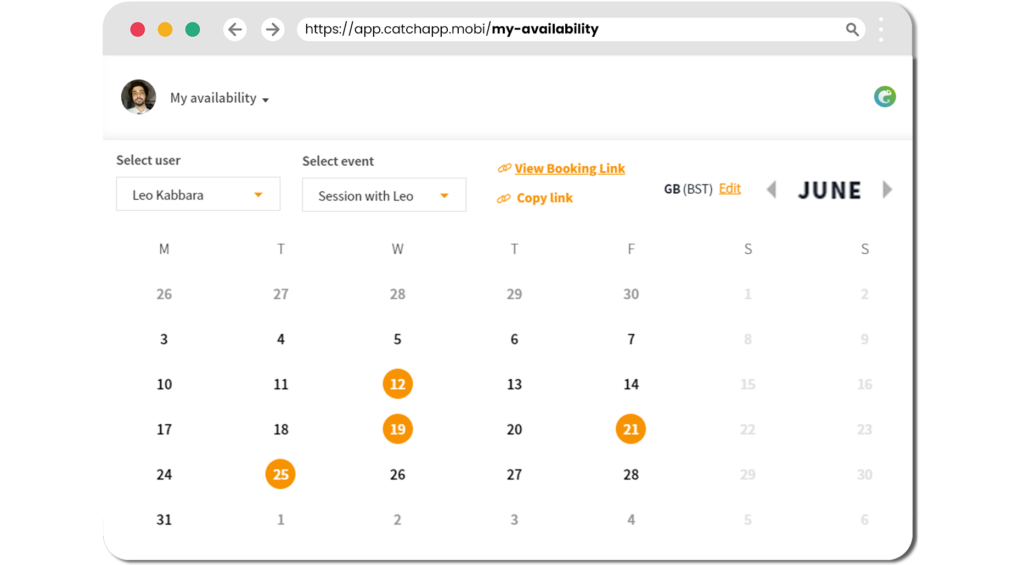 PRO TIP: Your bookings page can be shared everywhere! You can send your personal bookings link by email, on social media, messengers, Linkedin, etc. But, you can also embed this on your website too!
What can I do now?
Now you fully personalize your bespoke appointments to share!
Outcomes for this…
With a complete Event Type, your bookings will deliver 80% more outcomes than a partially completed one
To take it to the next level:
Share your Booking link
Embed your Event Type
Customize the timezone of your Booking Page
Explore our Help Center for more ways to use CatchApp to make scheduling easier.
Have a question? If you have any questions, please reach out to our team by using our contact form. We're available 24/7 and happy to help!