The Client Bookings Page on CatchApp is a powerful tool that allows you to showcase your services and empower your clients to schedule appointments with ease. With a user-friendly interface and customizable features, the Client Bookings Page serves as a central hub for your clients to view your availability, book appointments, and manage their bookings. In this article, we will explore how you can leverage the Client Bookings Page to enhance your clients' booking experience and streamline your appointment scheduling process.
---
Customizing Your Client Bookings Page
You are able to customise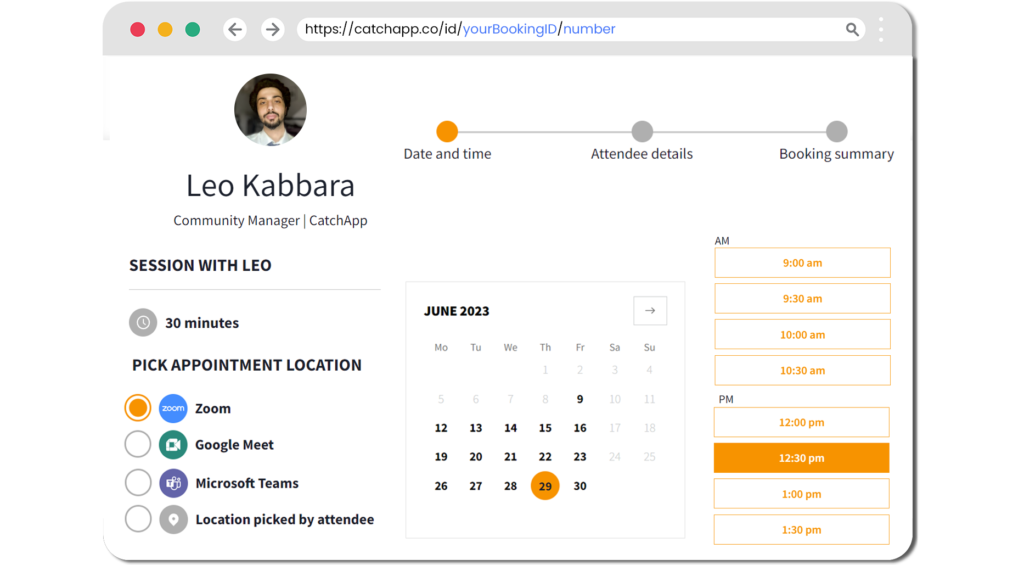 The Client Bookings Page can be personalized to align with your brand and meet your specific needs. Here's how you can customize it:
1) Login to your CatchApp account.
2) Go to the "Client Bookings Page" section.
3) Choose a template that suits your style and branding.
4) Customize the colors, fonts, and images to reflect your brand identity.
5) Add a personalized welcome message or instructions for your clients.
6) Enable or disable additional features such as intake forms or prepayments.
7) Save your changes.
Booking Appointments through the Client Bookings Pag
This will enable you to
Your clients can easily book appointments through the Client Bookings Page. Here's how they can do it:
1) Visit your personalized Client Bookings Page.
2) Browse through the available services and event types (if provided master event type)
3) Select the desired day and time slot.
4) Provide the necessary information, such as name and contact details.
5) Review the booking details and confirm the appointment.
6) Receive a confirmation email with all the appointment details.
---
What can I do now?
Now that you have set up your Client Bookings Page, you can:
Share the link to your Client Bookings Page with your clients.
Promote your services and availability through your website or social media.
Monitor and manage your clients' bookings through CatchApp.
Outcomes for this…
By leveraging the Client Bookings Page, you can expect the following outcomes:
Increased convenience for your clients with a user-friendly booking experience.
Improved client satisfaction through personalized branding and instructions.
Streamlined appointment scheduling process for both you and your clients.
To take it to the next level:
Customize your Profile
Embed your Booking Link
Add your Booking Link to LinkedIn
Explore our Help Center for more ways to use CatchApp to make scheduling easier.
Have a question? If you have any questions, please reach out to our team by using our contact form. We're available 24/7 and happy to help!