Embedding your booking link on your website or other online platforms is a convenient way to streamline the appointment scheduling process and provide a seamless booking experience for your clients. With CatchApp, you can easily generate a booking link and integrate it into your website or share it on various platforms. In this article, we will guide you through the process of embedding your booking link, empowering you to attract more clients and simplify the booking process.
---
Copying Your Booking Embed Code
You are able to customise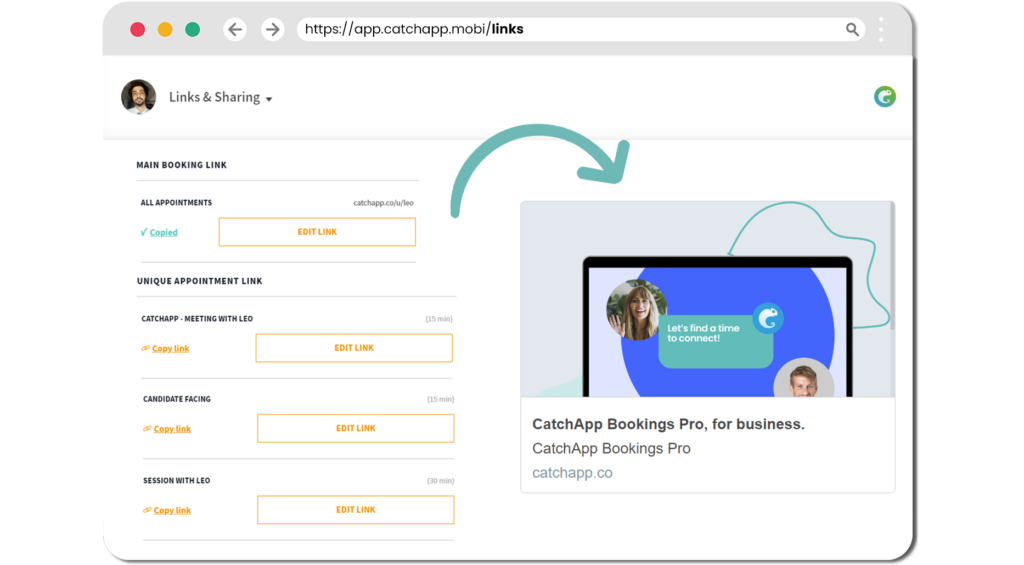 1) Login to your CatchApp account.
2) Go to the "Links & Sharing" page.
3) Look for the "Embed Booking Link" option.
4) Click on "Copy Link" to copy your unique booking page embed code.
5) Customize the code if desired, such as adding in-line or hiding profile picture
Embedding Your Booking Link
This will enable you to
1) Access the backend of your website or the platform where you want to embed the link.
2) Navigate to the desired page or section where you want to place the booking link.
3) Use the appropriate embedding method for your platform (e.g., HTML code, hyperlink, button).
4) Paste the booking link you generated in the previous step.
5) Save or publish the changes to make the embedded booking link visible to your clients.
---
What can I do now?
Now that you have embedded your booking link, you can:
Offer a convenient and streamlined booking experience for your clients.
Increase the visibility and accessibility of your appointment scheduling.
Attract more clients by making it easier for them to book your services.
Outcomes for this…
By embedding your booking link, you can expect the following outcomes:
Improved client conversion rates as the booking process becomes more accessible.
Increased efficiency in appointment scheduling through a streamlined process.
Enhanced customer satisfaction by providing a seamless and user-friendly booking experience.
To take it to the next level:
Fine-tune your availability
Create and manage your events
Add CatchApp Booking links to your Social Profile for quick, anytime access
Explore our Help Center for more ways to use CatchApp to make scheduling easier.
Have a question? If you have any questions, please reach out to our team by using our contact form. We're available 24/7 and happy to help!