One link does it all, and there are options for unique links to lead your invitees to a specific appointment type too!
---
You are able to customise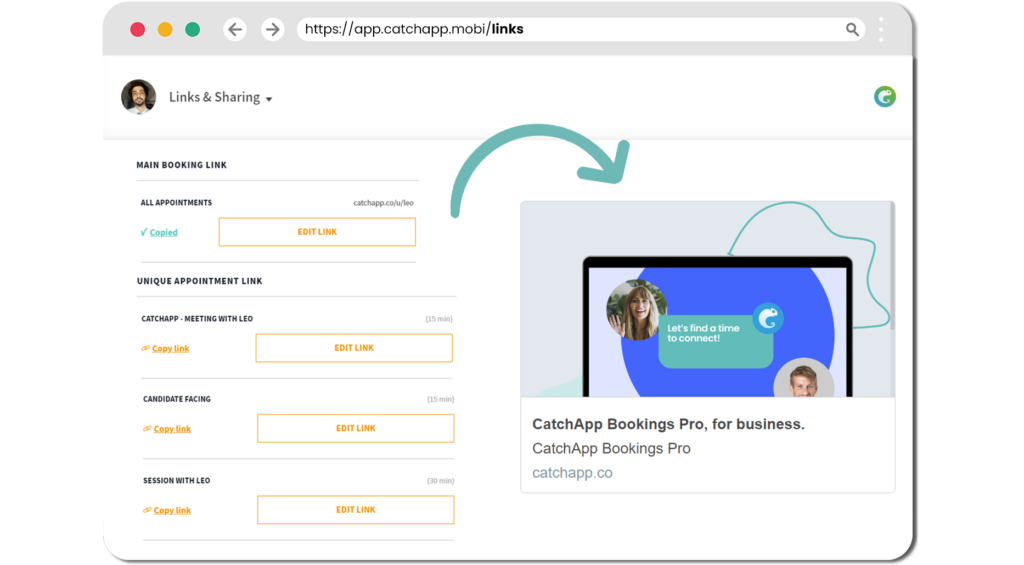 Sharing your link with clients is a breeze. Simply navigate to the "Links & Sharing" page, and just copy the relevant unique link and send it to your clients in an email, leave it in their DMs, your signature, your socials, anywhere you want – maybe not anywhere.
Don't forget that if you have a site, you can also embed your link directly into your site by copy and pasting the text underneath the "Embed in your site" title in the grey box, so your clients can book there too. Try this out for that extra bit of polish to your website booking experience!
---
What can I do now?
Now you can share your appointments anywhere, anytime
Outcomes for this…
By sharing your booking link, clients are 80% more engaged with booking an appointment through this direct apporach
To take it to the next level:
Customize your Booking URL
Add a Profile Picture
Add to your LinkedIn profile and Email Signature
Explore our Help Center for more ways to use CatchApp to make scheduling easier.
Have a question? If you have any questions, please reach out to our team by using our contact form. We're available 24/7 and happy to help!