At CatchApp Bookings, we're constantly evolving to provide you with tools that can revolutionize how you manage event types. Today, we're excited to introduce a game-changing feature: Event Types Toggle. This powerful addition can significantly enhance your event management capabilities, making your scheduling process smoother and more efficient.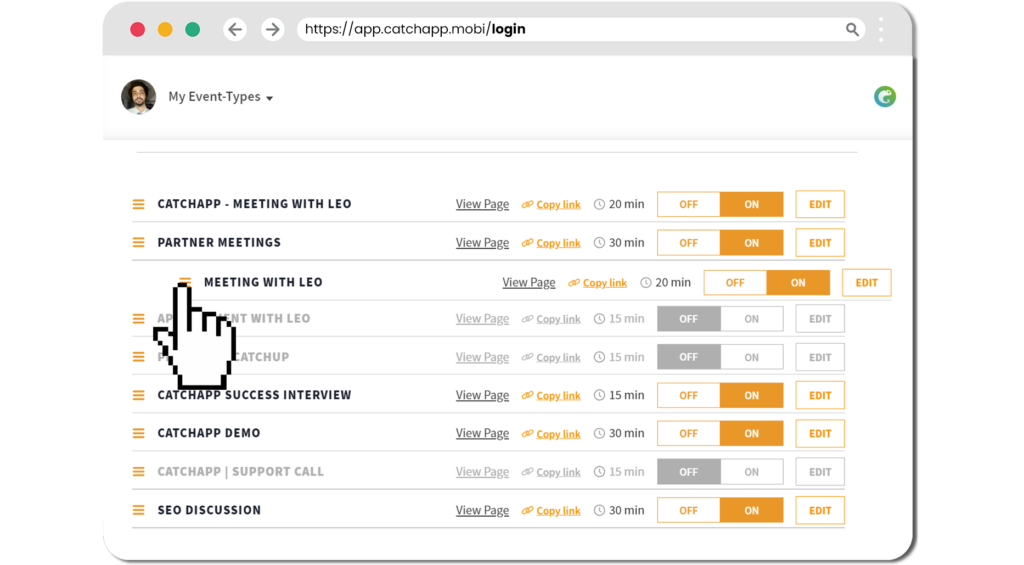 The Impact of Event Types Toggle
Picture this scenario: You have a diverse range of events to manage, from client meetings to webinars and product showcases. With Event Types Toggle, you can effortlessly switch between different event types within your scheduling system. This means you have the flexibility to tailor your scheduling approach based on the specific requirements of each event type.
Benefits of Event Types Toggle
Here's why Event Types Toggle is a game-changer for your event management:
Effortless Event Switching: Say goodbye to the hassle of juggling multiple scheduling tools for different event types. With Event Types Toggle, you can seamlessly switch between different event categories within a single platform.
Customized Scheduling: Each event type may have unique settings and preferences. Event Types Toggle allows you to customize your scheduling process for each category, ensuring a tailored approach that suits your needs.
Streamlined Management: Simplify your event management by centralizing it all in one place. From client meetings to webinars, you can efficiently oversee and organize everything with ease.
How Event Types Toggle Works
Getting started with Event Types Toggle is a breeze:
Access Your Event Types: Log in to your CatchApp Bookings account and navigate to the event types section.
Create and Categorize: Define the various event types relevant to your business or organization. For example, you can create categories like "Client Meetings," "Webinars," and "Product Showcases."
Toggle On the Fly: When you're scheduling an event, simply toggle between the different event types to access the specific settings and preferences you've configured for each category.
Get Started Today
CatchApp Bookings' Event Types Toggle empowers you with the flexibility to manage diverse event types effortlessly. Whether you're coordinating client meetings, hosting webinars, or showcasing products, this feature streamlines your event management process.
Ready to explore the benefits of Event Types Toggle? Sign up for a trial today and experience the convenience and customization it brings to your event scheduling. Simplify your management and make every event a success with CatchApp Bookings!