Appointment scheduling is a big part of any business, be it a small independent, or multi-national company. Your clients are busy people – just like you – and scheduling appointments can be taxing; having to go back and forth via email, text, calls, or whichever form of communication you use, is where CatchApp Bookings can really help you get the increase of meetings you need!
Sharing your link with clients is a breeze. Simply navigate to the "Links & Sharing" page, and just copy the relevant unique link and send it to your clients in an email, leave it in their DMs, your signature, your socials, anywhere you want – maybe not anywhere.
Save this link in your Notes app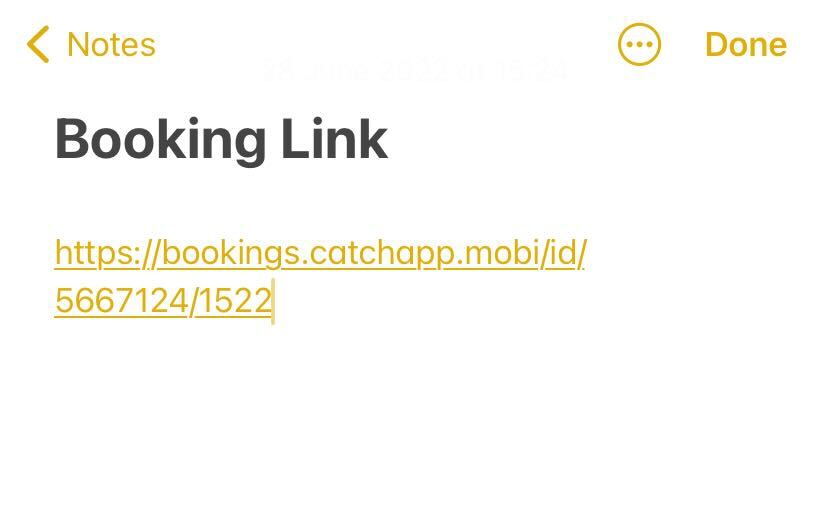 You can copy your link on your phone or desktop, or simply bookmark it in your browser, so you can easily access it. Our Booking links are designed to be used effectively anywhere online at a moment's notice!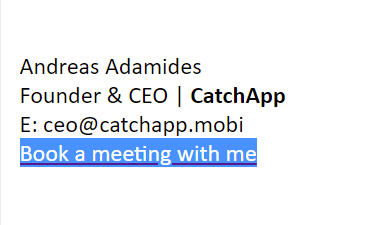 Use this link in your signature
Bookings link can be also added to your email signature so each time you email a client, it gives them the option to book more time with you. The same can be applied if you add it to your social bio or hyperlinked it in blogs.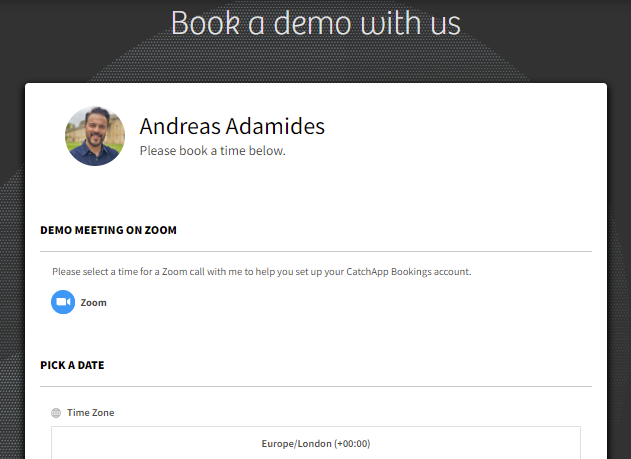 Add this link to your website
Don't forget that if you have a site, you can also embed your link directly into your site by copying and pasting the text underneath the "Embed in your site" title in the grey box, so your clients can book there too. Try this out for that extra bit of polish to your website booking experience!
Your custom link can be added to your website or Facebook page.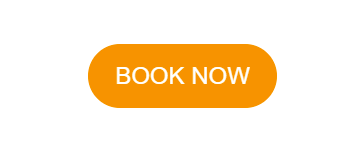 Ideally, add a BOOK NOW button and link it to your unique link
If you have several event types, you can share either the unique link to each depending on what you'd like to schedule, or share your main bookings link, so your invitees can choose from any of your event types!
Set up your Profile
Every business and professional needs to keep up appearances, why not add a profile picture or business image to your account and add your professional name to spice up your booking link!
CatchApp's easy to reach if you need an extra hand with our live help chat, as well as by email at info@catchapp.mobi, so no need to worry about long wait times for a simple fix.