In the fast-paced world of appointments and meetings, efficient communication is key to keeping everyone on the same page. That's why we're excited to introduce two powerful features that take your scheduling experience to the next level: Mandatory SMS Reminders and Host SMS.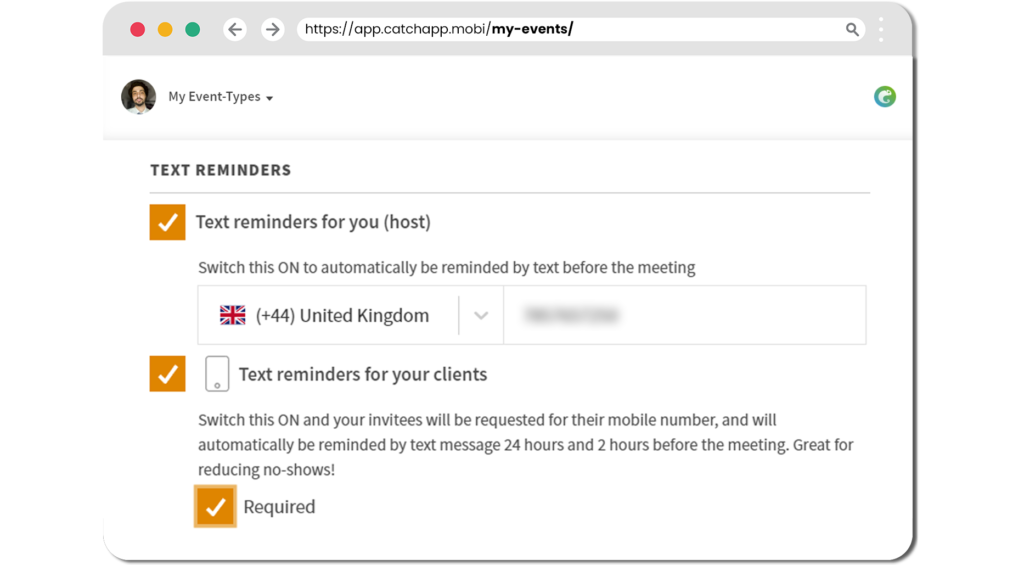 Mandatory SMS Reminders: Ensuring Attendee Engagement
We understand that missed appointments can be a headache for both hosts and attendees. To tackle this issue head-on, CatchApp Bookings now offers Mandatory SMS Reminders. With this feature, hosts have the option to make SMS reminders mandatory for attendees. Attendees will be required to provide their phone numbers, ensuring they receive timely and important reminders, making no-shows a thing of the past.
Benefits of Mandatory SMS Reminders for Attendees:
Enhanced Engagement: Attendees are more likely to engage with SMS reminders, as they offer a direct and immediate communication channel.
Reduced No-Shows: By making SMS reminders mandatory, hosts can significantly reduce the chances of no-shows and last-minute cancellations.
Personalized Experience: Attendees feel valued when they receive personalized SMS reminders that help them stay organized and prepared.
Host SMS: Tailored Reminders for Hosts
CatchApp Bookings recognizes that hosts have unique needs when it comes to managing appointments. Host SMS is designed with hosts in mind, allowing them to set customized reminder times outside the default 24-hour and 2-hour reminders. This feature empowers hosts to fine-tune their reminders to suit their specific requirements.
Benefits of Host SMS:
Flexible Reminder Times: Hosts can now decide when they want to receive reminder notifications. Whether it's a week in advance or just a few hours before, the choice is yours.
Optimized Preparation: With tailored reminder times, hosts can ensure they have ample time to prepare for each appointment and make the most out of their meetings.
Personalized Scheduling: Host SMS lets you take control of your scheduling, ensuring that you receive reminders when it best suits your workflow.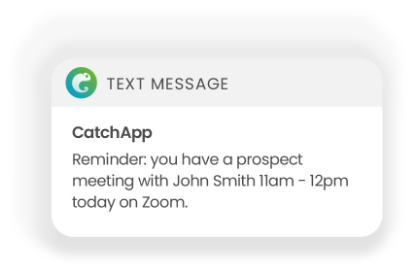 How to Get Started
Implementing Mandatory SMS Reminders and Host SMS is simple and user-friendly:
Mandatory SMS Reminders: Hosts can enable this feature in their Event Type settings. Attendees will be prompted to provide their phone numbers, and SMS reminders will become an integral part of the scheduling process.
Host SMS: Hosts can access their reminder settings and customize reminder times that align with their schedule and preferences.
Stay ahead of the game and revolutionize your scheduling experience with CatchApp Bookings' Mandatory SMS Reminders and Host SMS features. Say goodbye to missed appointments, boost engagement, and make scheduling a breeze. Sign up for a trial today and explore these features to streamline your appointment management.
Don't miss out on the benefits – take your scheduling to the next level with CatchApp Bookings!