At CatchApp Bookings, we're all about empowering you to take control of your scheduling process. We're excited to introduce an enhancement to the My Availability Control feature – Availability Range. With this new addition, you can now set specific time ranges for when your event types are accessible, providing even more flexibility and customization to your appointment management.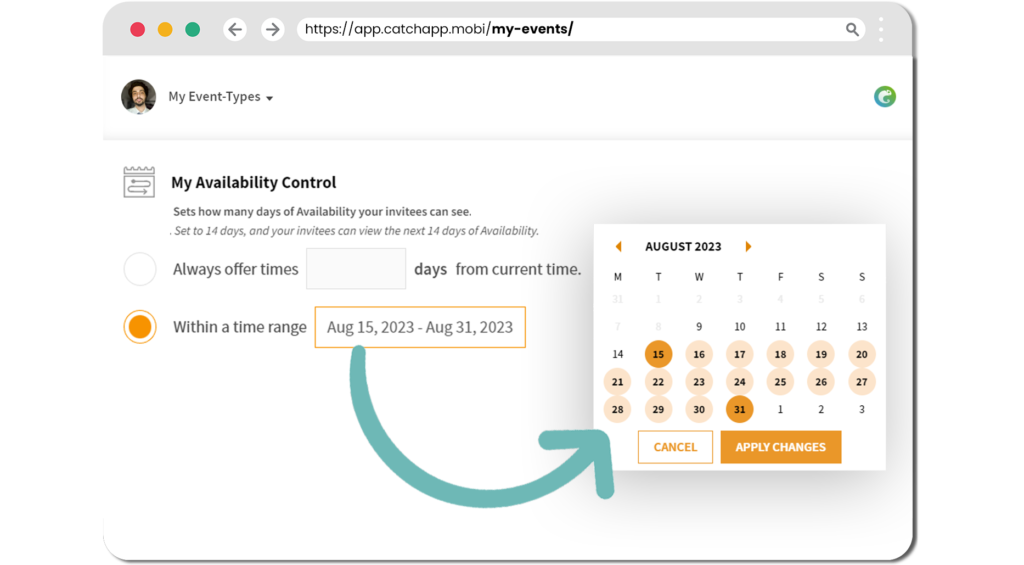 The Power of Availability Range
Imagine you have a sales demo event type that you'd like to make available to your clients. However, you want to limit its accessibility to a specific time frame – maybe from next week until the end of the month. With Availability Range, this task becomes a breeze.
Benefits of Availability Range:
Precise Scheduling: Tailor the availability of your event types to match your exact needs. Choose the exact days and times when you want the event type to be accessible.
Efficient Planning: By defining specific access periods, you can ensure that your appointments align with your overall business strategy and availability.
Improved Customer Experience: Clients appreciate the clarity of knowing when they can book appointments. Setting availability ranges helps manage expectations and reduces confusion.
How Availability Range Works
Using Availability Range is simple and intuitive:
Access My Availability Control: Navigate to the My Availability Control settings in your CatchApp Bookings dashboard.
Select Your Event Type: Choose the event type you want to customize.
Set Availability Range: Instead of just selecting a few days or weeks, now you can set a specific range of time when the event type will be accessible.
Save and Enjoy: Once you've defined the availability range, save your settings, and watch as your event type becomes accessible only during the specified period.
Get Started Today
CatchApp Bookings' Availability Range empowers you to refine your scheduling strategy and optimize your appointment management. Whether you're introducing a new service, offering limited-time promotions, or aligning appointments with your business goals, Availability Range is your solution.
Sign up for a trial today and experience the convenience and customization that Availability Range brings to your scheduling. Make the most out of your appointments by defining when they're accessible – streamline your scheduling process with CatchApp Bookings!