Effective scheduling is crucial, but missed appointments can be a major setback. Waiting alone for a client who doesn't show up can be frustrating and unproductive. At CatchApp Bookings, we understand the importance of reliable reminders to keep everyone on track. That's why we're excited to announce our latest feature: Tailored Email Reminders.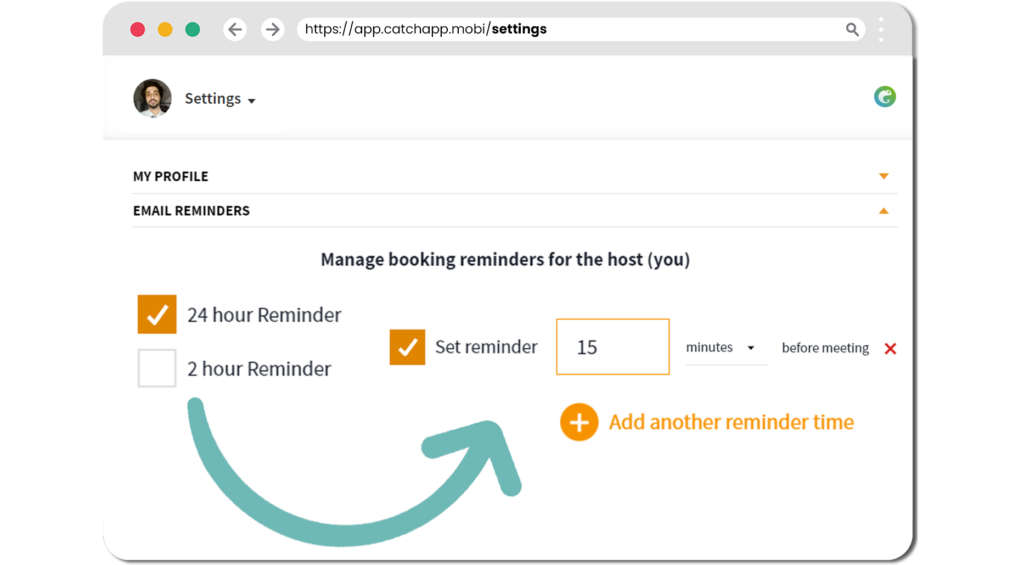 Customization for Host and Attendee
With Tailored Email Reminders, hosts and attendees have the flexibility to set their preferred reminder times and customize the contents of their email notifications. This new feature empowers you to create personalized emails that resonate with your brand and business needs.
Benefits for Hosts:
Flexible Reminder Scheduling: Hosts can choose when to send email reminders to attendees. Whether it's hours before the appointment or just a couple of minutes prior, you have the freedom to set the ideal reminder time for your specific event.
Brand Personalization: Customize the email content with your branding elements, such as a personalized message. Make the email reminders a seamless part of your brand experience.
Informative and Actionable: Tailor the content of the email to include all the necessary information that attendees might need, such as meeting agenda, location, or any preparation they should do beforehand.
Benefits for Attendees:
Reminder Flexibility: Attendees can also customize their reminder preferences based on what suits them best. They can choose to receive reminders a day before or just a few hours ahead of the scheduled appointment.
Clear and Personalized Communication: Customized email reminders make attendees feel valued and appreciated. With relevant information catered to their needs, they are more likely to engage and attend the appointments promptly.
Easy Rescheduling Options: The personalized email reminders can include rescheduling links or buttons, making it convenient for attendees to request a change in appointment time if needed.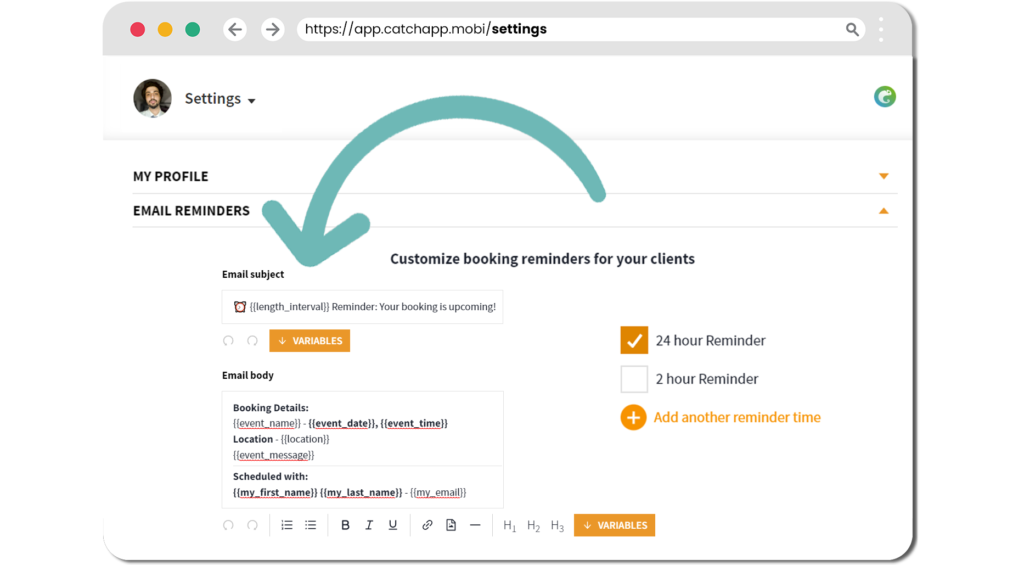 How Tailored Email Reminders Work
Creating personalized email reminders with CatchApp Bookings is a breeze. The process is simple and user-friendly:
Set Reminder Times: As a host, navigate to your CatchApp Bookings dashboard and access the reminder settings. Choose your desired reminder times, keeping in mind what works best for both you and your attendees.
Customize Email Contents: Craft engaging email templates that convey your message effectively. Include dynamic variables that will automatically be replaced with relevant details like event title, date, and time.
Preview and Save: Before implementing the changes, preview the customized email to ensure it looks exactly as you desire. Save your settings, and you're good to go!
Get Started with Tailored Email Reminders
Never worry about missed appointments again! Make use of CatchApp Booking's Tailored Email Reminders feature to stay organized, enhance communication, and reduce no-shows.
Sign up for a trial today and experience the convenience of personalized appointment notifications. Efficient scheduling starts with reliable reminders – and we've got you covered!